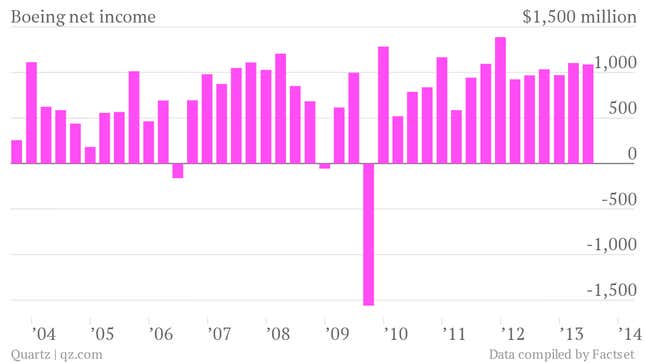 The numbers: Boeing exceeded Wall Street's expectations by about $0.10, reporting earnings of $1.67 per share. Revenue in the second quarter was 9% higher than it was a year ago, and profits (net income) rose by 13%.
The takeaway: Despite a first half fraught with drama over mechanical problems in the new Dreamliner 787s, Boeing is doing swimmingly. Airlines still want to buy its planes; in the second quarter alone, they placed orders for $40 billion in new planes. Investors have taken note; shares of Boeing were trading 1.5% higher ahead of the US market open.
What's interesting: The only weak part of Boeing's business was its military aircraft segment, which has likely suffered from cutbacks in US government spending related to the sequester. Revenues in military aircraft were down 4% to $3,889. However, Boeing's results suggested that there's still money to be made from public sector demand for so-called "network and space systems," which includes information technology for missile systems and space exploration.