Catalonia's regional parliament kicked off its latest campaign for independence on Sept. 13, despite the Spanish government declaring plans for an Oct. 1 referendum "illegal and undemocratic."
Spanish prime minister Mariano Rajoy used a televised statement to ask pro-independence Catalan leaders to "stop this escalation of radicalism and disobedience once and for all," after several thousand people took to the streets of Barcelona to protest of the central government's attempts to stop the vote from taking place. The government in Madrid has been taking increasingly aggressive steps to stop the vote from taking place.
There are questions over whether the referendum will go ahead and, if so, whether the result will be recognized, considering that the central government has deemed it illegal.
Why do some in Catalonia want independence?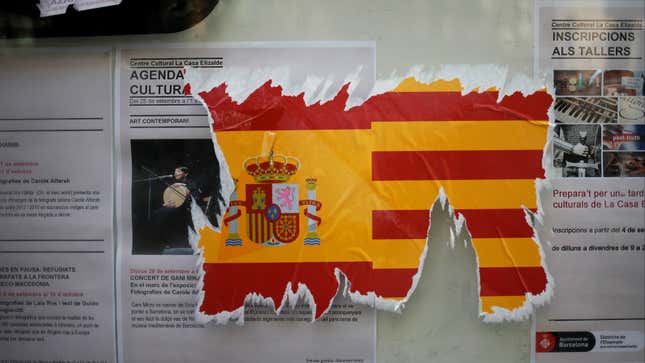 Catalonia has a long history of trying to break away from Spain. The Spain we know now was born after the defeat of Valencia in 1707, of Catalonia in 1714, and finally with the last of the islands in 1715, during the War of the Spanish Succession. Since then, Catalonia, which has its own language, laws, and customs, has regularly tussled over autonomy with the central government in Madrid.
For hundreds of years, various Spanish leaders tried to outlaw the Catalan language and play down other aspects of the region's culture. Official autonomy within Spain was granted to the Catalan government, known as the Generalitat, in the early 20th century, interrupted by a brutal crackdown under dictator Francisco Franco, and then restored a few years after his death in 1975.
These historical grievances were exacerbated by economic hardship from 2008 onwards, as Spain's severe credit crisis, billion-euro bank bailout, and soaring unemployment catalyzed the desire to seek independence once again. Back in 2014, around 80% of people in the region opted for independence in an informal vote (a "participation process"), although turnout was low.
Why does the Spanish government want to stop the referendum?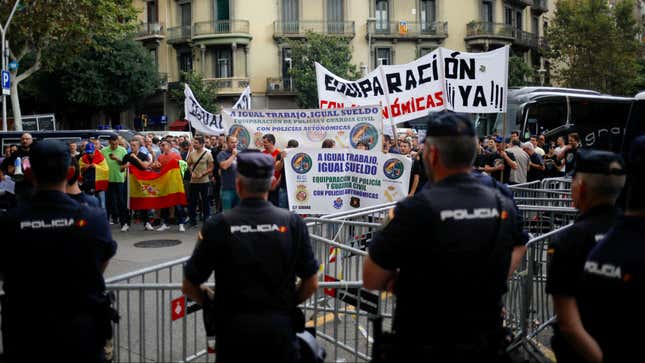 It is not clear whether the independence referendum will even go ahead.
The Spanish government is so vehemently against the referendum that officials in Madrid have dubbed it "evil" and a threat to Spanish democracy. In the lead up to the vote, the Public Prosecutor's Office ordered the Catalan police to close and occupy all places that could be used as polling stations. The police were also instructed to seize any items are being used for the vote, "especially ballot boxes, computers, ballot papers and election documents and propaganda." As part of these operations, the national police has stormed ministries and buildings belonging to Catalonia's regional government.
Catalonia is a crucial part of the Spanish economy. Its 7.5 million residents represent 16% of Spain's population, but the region accounts for 19% of Spain's GDP, according to the OECD (pdf). Catalonia's economy benefits from a breadth of industries, from manufacturing to construction and agriculture. The central government is worried that if Catalonia goes ahead with a vote, it could encourage the Basque region to do the same, although right now that doesn't look likely.
If Catalonia left Spain, there would be a big economic hole—for both countries (paywall). Firstly, Catalonia installing a new border and new laws would impact jobs and business immediately. Furthermore, it wouldn't be part of the EU anymore (more on that later), so trade with other EU members could not carry on as usual. Catalonia accounts for over 25% of Spain's exports.
Is it likely that Catalonia will vote for independence?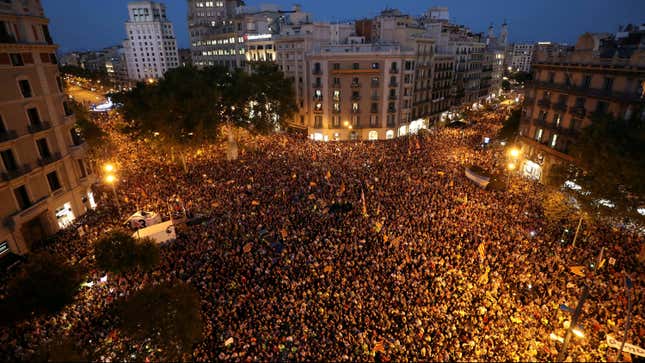 Probably not. This is how analysts at Barclays summed it up in a research note this month:
Should we worry about the referendum and its potential consequences? Despite all the headlines of the past weeks and those to come, we believe that the likelihood of independence in the near term is close to zero. Separatist voters do not command a majority. The polls put this number at just over 40%. Furthermore, the Constitutional Court has declared the referendum illegal and would also in all likelihood declare illegal any possible unilateral declaration of independence.
According to an analyst note by Nomura, citing several polling agency data, support in favor of independence has risen from 30% in 2011 to around 50% now.
What does the EU think about Catalan independence?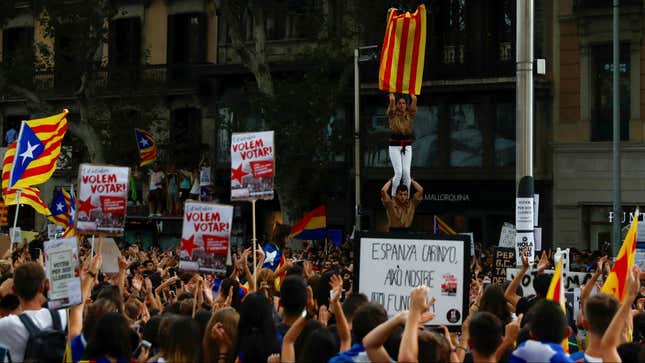 Earlier this month, European Commission president Jean-Claude Juncker gave the most clear statement yet on Catalonia. In an interview with three young YouTube video creators for Euronews, he said the commission would, indeed, recognize an independent state—provided a referendum was held with Madrid's blessing, which it won't be.
Mirroring what the commission said when Scotland held an independence referendum in 2014, Catalonia would have to reapply for EU membership if it broke from Spain. "Catalonia will not be able to become an EU member state the day after such a vote," Juncker said. The accession process could take years.
"Europe has strong regional traditions and this is what makes it rich," Juncker said. "But I would not want regional traditions to lead to separatism and to the fragmentation of Europe. But who am I to tell people what they should think if they are tempted by independence?"