St. Louis, Missouri
On Friday afternoon, the intersection of Clark Avenue and South Tucker Boulevard in St. Louis, Missouri, was silent, and a shoulder-to-shoulder line of over 50 police officers in riot gear began backing up, slowly. Several hours earlier, a judge had declared that Jason Stockley, the former St. Louis police officer who shot and killed Anthony Lamar Smith, a 24-year old black man, in 2011 was not guilty of murder.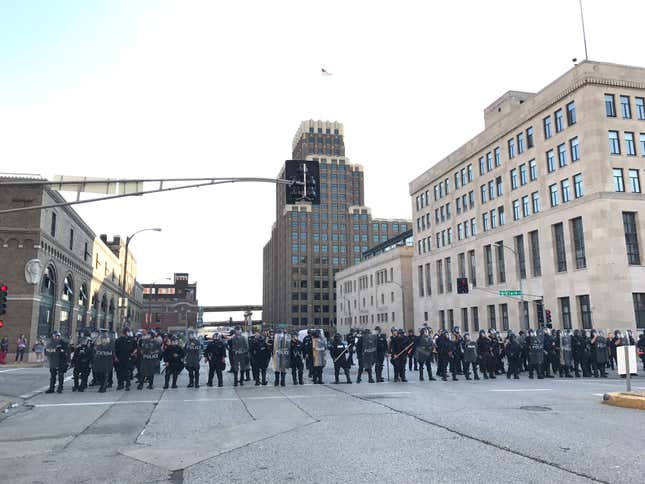 The ruling was controversial for many reasons, not the least of which was footage that captured Stockley declaring to his partner, after a high-speed car chase, "We're killing this motherfucker, don't you know," moments before he did just that.
Three years after the protests in Ferguson, after a grand jury declined to indict Darren Wilson for the shooting death of Michael Brown, St. Louis anticipated demonstrations and possible violence. Offices and libraries closed early; school events, concerts, and outdoor bike rides and runs were cancelled. Businesses boarded up their windows, as hundreds of protesters gathered downtown. The protests were peaceful until late afternoon, when police deployed pepper spray after protesters reportedly blocked officers from exiting a bus.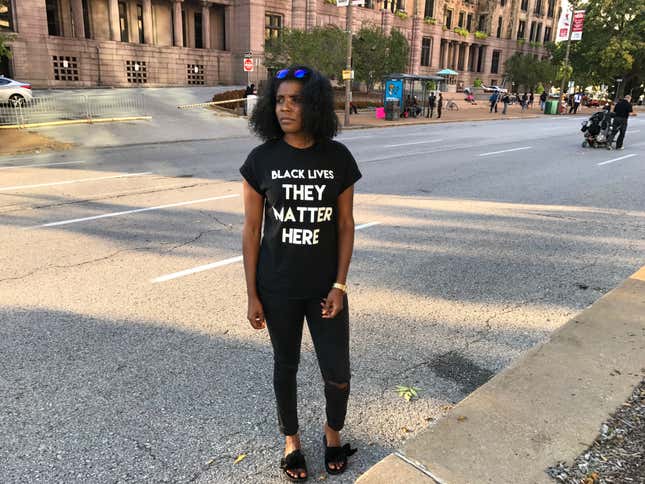 "It started off as very peaceful," said Nikeea Payne, who had left her job in human resources early in the day to join the demonstrations. Then, she said, "aggressive protesters" climbed on top of a police SUV, and police deployed pepper spray indiscriminately.
"They tear-gassed everyone," she said. "They didn't care if you were on top of the [police vehicle] or not."
Several protesters also said they were sprayed after attempting to help an older woman who was knocked down by police, and in danger of being trampled.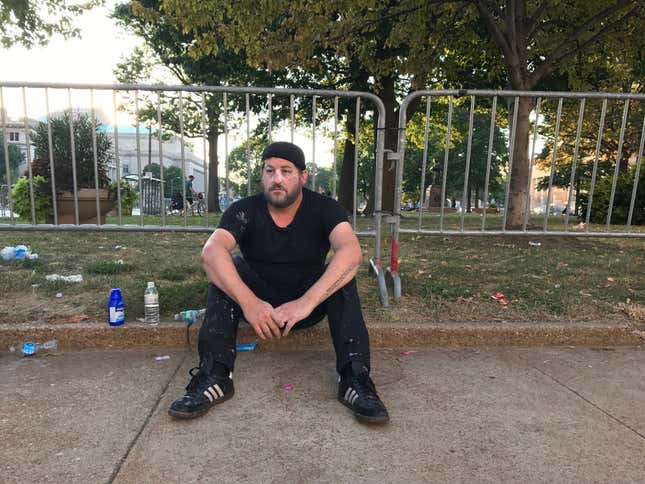 "I got a little mace on me," said a woman who wished to remain anonymous. She was leaving the protest on her bicycle, with white liquid—likely milk of magnesia to ease the burning—dried on her cheeks, beneath her clear-framed glasses. She said she was attempting to help a friend who was on the ground, blinded, when she too was sprayed.
As the crowd thinned, remaining protesters walked away from the retreating police line. Todd Cole, who carried a sign that read, "We are not free when we live with state-sanctioned murder," wondered aloud if people were giving up. He said he had come downtown "just to feel the vibe of the people."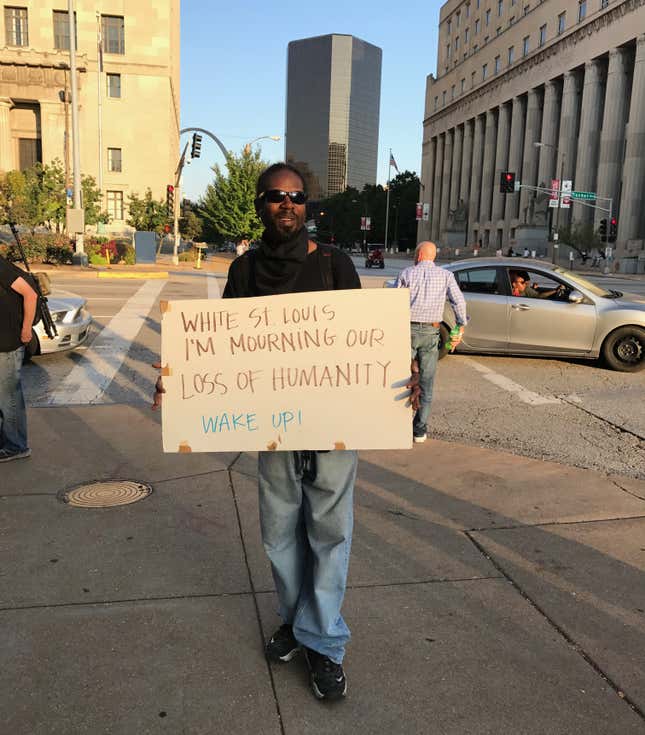 "The vibe was justice and peace," he said. "That's what people want." He added that he wanted to support protesters who were willing to take risks in honor of a man who was "wrongly killed."
"That's what this country is made of," he said. The other side of his sign read:
White St. Louis
I'm mourning our loss of humanity
Wake up!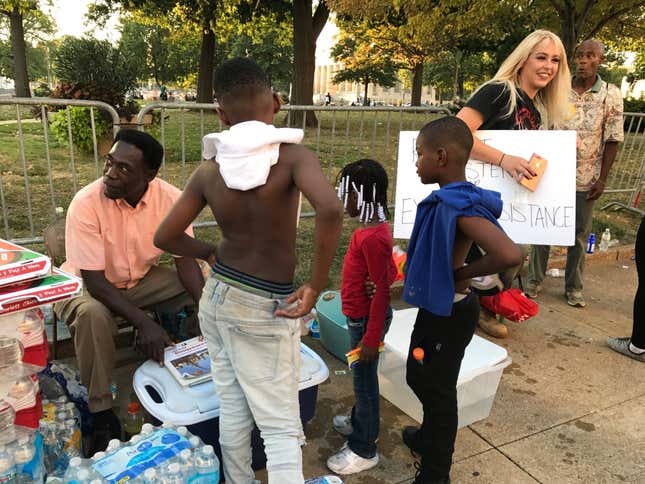 Nearby, Jay Weaver, a man in a melon-colored button-up shirt, sat on a folding chair surrounded by coolers, Gatorade, and pizza boxes. He handed out three slices to men passing by.
"Can I get a banana also?" a passerby asked.
"I come by way of a not-for-profit," Weaver explained. "The Broken Key Ministry." Weaver said he was downtown often, bringing food to the homeless community, but on Friday, he was also there in support of the protesters, making sure people stayed fed and hydrated. Weaver was interrupted by the arrival of a shiny red golf cart.
"Is that free water?" said the driver, Ricky Collins, the former police chief of nearby Pine Lawn, Missouri. He grabbed a bag of ice from the passenger seat of the golf cart. "I just want to put some ice on that free water," Collins said.
"I come down just to support the protest, as long as they're peaceful," said Collins. "I don't think it's the police against the protesters … The protesters have a right to protest without violence around them as well." Collins added that he didn't know the circumstances of the Stockley case, but "one law enforcement officer shouldn't be unfavorable to the whole department."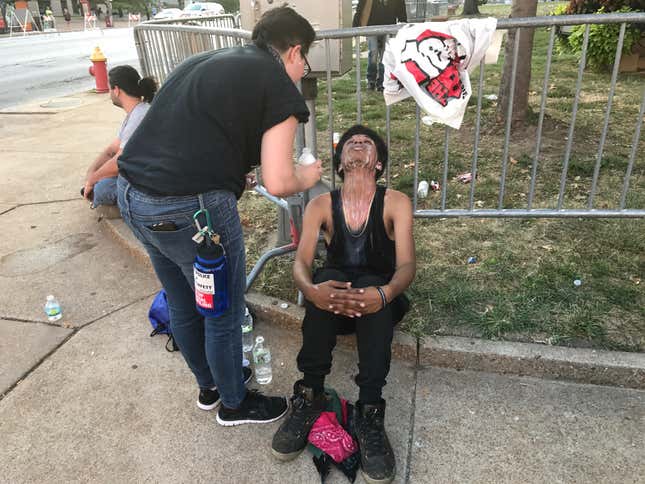 Nearby, Emma Cunningham poured water and milk of magnesia over the eyes of Chris Pulphus, a 19-year-old protester. "[The police] told us to move back," Pulphus said. "We said this is our street too—and they sprayed us … I shouldn't have to be fearful. If I'm having this problem, then other people are as well."
Weaver continued to hand out water.
"I think all this is part of the healing process. There may be a tad bit more turmoil before the healing comes," he said. "Without protest there can be no progress."
Correction: An earlier version of this article said Darren Wilson was acquitted for the shooting death of Michael Brown. He was not acquitted, but rather was never subjected to trial after a grand jury declined to indict him.