Manufacturing leather goods produces a startling amount of waste. That's because leather doesn't come in a neat, uniform roll. It's an animal hide, and comes in irregular shapes, sometimes with imperfections. Manufacturers use as much as possible when selecting the pieces to turn into shoes, bags, and other products, but much of it ends up as small bits of scrap. Normally, those scraps become landfill, but Nike has developed an innovative way to make use of them.
This week, Nike unveiled a new leather material that, impressively, has the look and feel of 100% leather, while also being lighter and stronger. The company calls its new textile Flyleather—an echo of the Flyknit fabric it introduced in 2012—and is debuting the first Flyleather shoes in New York today (Sep. 18) as part of Climate Week. To see Flyleather up close, I went to a Nike store in SoHo, New York, one of just a few locations where the first Flyleather sneaker—an all-white Tennis Classic ($85)—is available. (They're also for sale on Nike's website.)
Even in person, Flyleather sneakers are nearly impossible to distinguish from traditional leather. The material itself is soft like nice leather, and Nike is able to give it a texture much like full-grain leather. It doesn't have the flat, plastic-like feel you normally expect of reconstituted bonded leather. (One of the draws of real leather, though, is how it wears over time, and how well Flyleather handles aging will be one of the big tests for consumers.)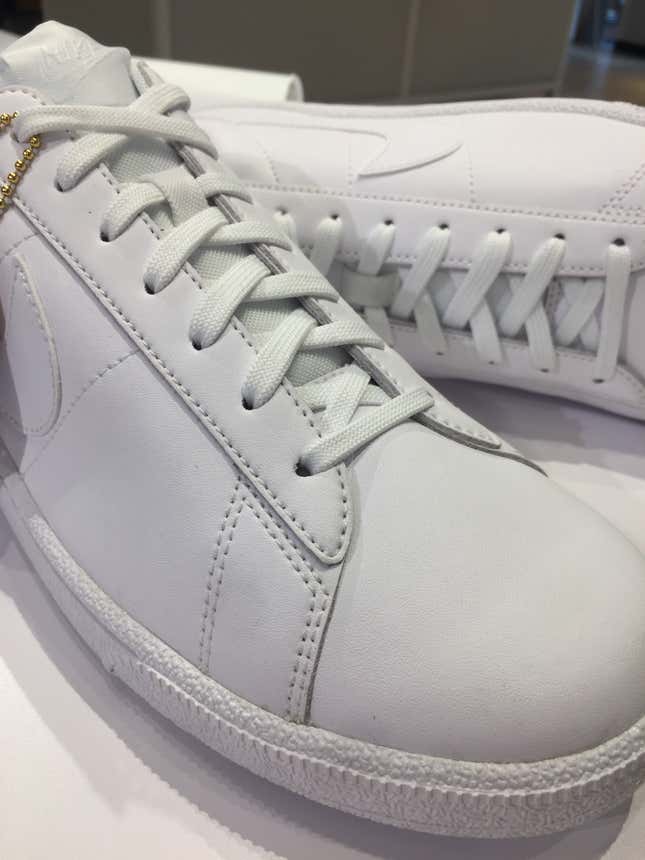 Here's how it's made: Nike takes the scraps of tanned raw hide left over once the desired pattern pieces have been cut out of the hide. It grinds those scraps into smaller leather fibers, and then sandwiches them, along with other fibers it may add for specific performance qualities, around a polyester screen, called a scrim. Nike then fuses the scrim and the fibers together using high-powered water jets. Nike adds a finishing coat, and Flyleather is ready.
Earlier this year, Nike set itself the daunting task of doubling sales while cutting its environmental impact in half, and Flyleather plays directly into that mission. The material is 40% lighter and five times more durable than conventional full-grain leather (based on abrasion tests), while requiring 90% less water to make. Flyleather can also be produced in a large roll, which lets factories maximize the pattern pieces they are able to cut out, resulting in fewer leftover scraps. (In the normal leather manufacturing process, Nike says up to 30% of a cow's hide is discarded.) The company says that a pair of Flyleather sneakers has roughly half the carbon footprint of shoes made with traditional leather.
For now, Nike is debuting Flyleather with just the Tennis Classic, though it is also raffling off four other classic models made from the new material. The company told Business of Fashion (paywall) that it doesn't have any set sales goals for Flyleather, but it does plan to work the material into a wide range of products.