At 11am local time Tuesday morning, Mexico held a national public earthquake drill, with more than 7 million people participating (link in Spanish). Two hours later, at 1:14pm, a 7.1-magnitude earthquake hit, on the anniversary of the country's deadliest earthquake ever.
Mexico holds an earthquake drill every year on Sept. 19—an event that is part preparedness exercise and part memorial to the devastation of the 1985 8.1-magnitude earthquake, a traumatic national event that left anywhere from 5,000 to 30,000 dead.
Tuesday's quake killed more than 200 people, and the toll is periodically being revised. The tremor, which had its epicenter about 75 miles (121 km) from Mexico's capital, was the second earthquake to hit the seismically vulnerable country in two weeks. Another on Sept. 7 killed about 90. Five states affected by or close to the earlier quake decided not to participate in the Sept. 19 drill this year.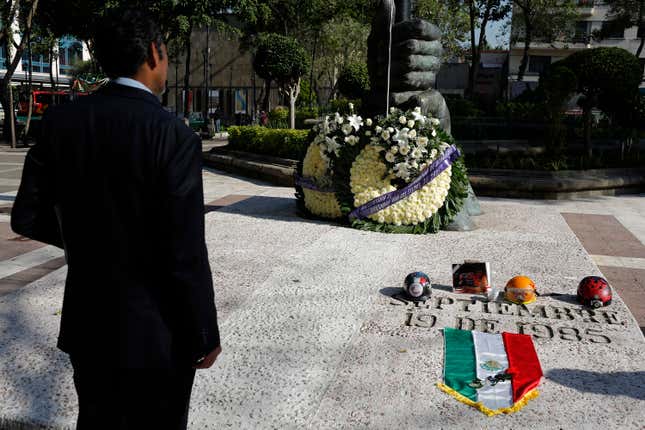 While this month's earthquakes claimed lives and damaged buildings, the lessons Mexico took from the 1985 quake have been credited with reducing deaths, injuries, and building collapses. The changes ushered in after the disaster included stricter building codes, but also a well-organized culture of preparedness that has spread through organizations and down to families (the evacuation shown above is from 2011). Tuesday's drill involved sharing details of the mock quake that people were to prepare for, including its magnitude, epicenter, and how long the hypothetical shaking would last.
The Mexico City civil protection department guide for this year's Sept. 19 participants asks buildings to register (links in Spanish) ahead of the exercise, so the government can gauge the level of participation. It also suggests building committees meet in advance to share details of the mock quake (link in Spanish) with occupants. In this case, the drill was preparing for an 8.0 event epicentered on the coast, like many of Mexico's quakes. Coordinators for buildings are asked to submit a report to the Civil Protection department at the end of the drill.
While the Sept. 19 drills, taking place since 2004, are particularly elaborate, such exercises are far from an annual occurrence. They take place monthly in hotels, schools, and offices—even private homes.
An earthquake can't be foreseen far in advance or prevented. But Mexico has done an enormous amount to reduce as much as possible the worst devastation from forceful tremors. It's an object lesson in how to learn from a tragic natural disaster, and an example other countries could emulate.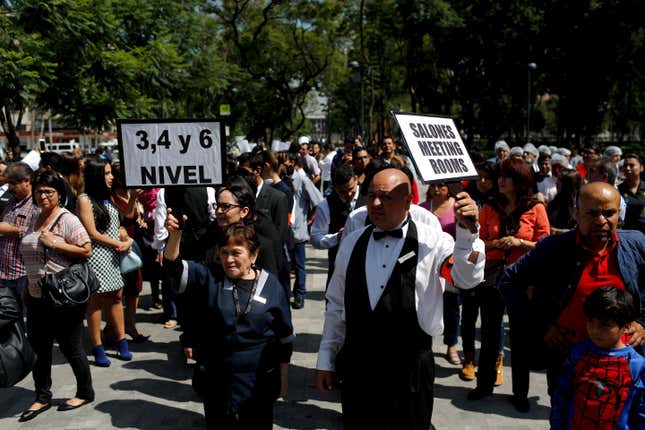 This post was updated at 3:07am ET on Sept. 20, 2017, to reflect the latest toll.