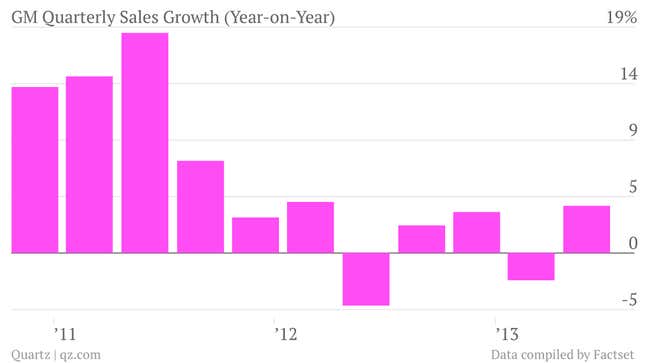 The numbers: Not as bad as expected. General Motors reported second quarter earnings of $1.2 billion, down from $1.5 billion for the same period last year. The automaker took a one-time hit of $500 million due to a tax expense. Excluding the one-time charge, profits were 84 cents a share, well above consensus estimates. Booming sales of pickups in the US and Cadillacs and Buicks in China lifted revenues by 3.9%. The stock was up in early trade.
What's interesting: Europe wasn't as much of a drag as expected. The automaker cut its losses in Europe to $100 million, down from $400 million in the same quarter last year. North America was the winning market for GM, with adjusted earnings before interest and taxes rising to $2 billion, up $100 million.
The takeaway: GM is at the beginning of a launch cycle, with 18 new or redesigned vehicles including the Chevrolet Corvette and Silverado set to hit US showrooms this year. The management is betting on the new launches to drive sales. "For the rest of the year, we'll focus on winning customers with high-quality vehicles at a compelling value," Chief Executive Officer Dan Akerson said in the statement.