Yesterday, online learning platform Udacity revealed two new programs in flying and self-driving cars.
"Intro to Self-Driving Cars" promises to teach students "the essentials of building a self-driving car" over four months for 10 hours per week. Designed for people with minimal coding experience, the course introduces students to the basic engineering challenges of self-driving cars (there's also a more advanced "Self-Driving Car Engineer" bootcamp.) Udacity has partnered with Lyft to offer 400 scholarships to underrepresented minorities in tech for the $800 class.
The two-term "Flying Car" program, which will open early 2018, brings together aerospace professors from MIT, ETH Zurich, and the University of Toronto. Despite the ambitious name, the curriculum focuses largely on quadrotors and fixed-wing drones, which are used to introduce software skills and basic concepts that might eventually power the flying cars of the future.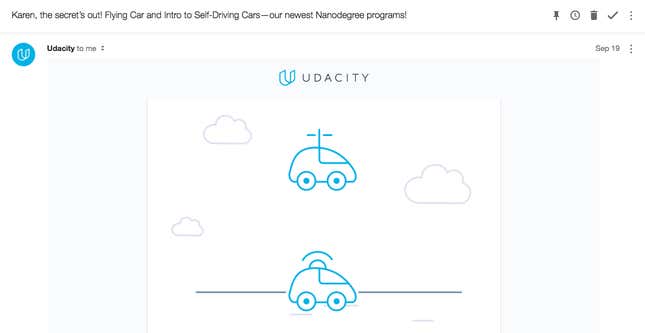 In an email to Udacity newsletter subscribers, founder Sebastian Thrun wrote that "as self-driving cars start taking over the world, everyone should be a part of this revolution." He also professed his belief that urban transportation will eventually shift to air in an introductory video for the Flying Car program. Thrun himself is personally invested in the prospect, as CEO of the Larry Page-backed flying car startup Kitty Hawk.
Though a future packed with self-driving and flying cars is still far off, popular demand to learn more about the basic principles appears high. Since Udacity launched its "Self-Driving Car Engineer" program around the same time last year, 10,000 students have enrolled in the self-driving car program, according to a company representative.
About 400 students are expected to graduate in the first cohort. Sixty have received job offers from companies like BMW, Volvo, and Amazon Robotics. Lyft says it will offer jobs to future graduates of the new self-driving car program, and Kittyhawk is reportedly planning to do the same for grads of the flying car program.