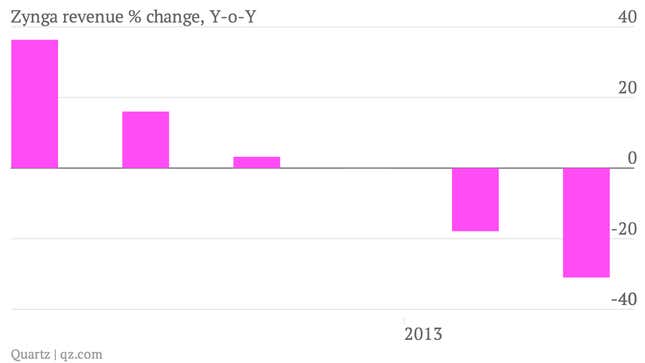 The numbers: Not great, but they beat estimates. Online gaming company Zynga reported an earnings-per-share loss of $0.01 on revenue of $231 million.
The takeaway: The more important news coming out of Zynga today is that it's not going to pursue a license for online gambling using real money in the US. That, along with a sharp drop in users and a negative outlook, caused its stock to fall by more than 13% in after-hours trading. Expanding in online gambling with real cash was viewed as a way to turn Zynga's fortunes around. The company recently rolled out online gambling games that use real dough in the UK. Shares had gone up on that news.
What's interesting: It looks like new CEO Don Mattrick, who was head of the Xbox division at Microsoft and just came to Zynga, is totally overhauling the company's strategy. In a statement, he said, "We need to get back to basics and take a longer term view on our products and business, develop more efficient processes and tighten up execution all across the company. We have a lot of hard work in front of us and as we reset, we expect to see more volatility in our business than we would like over the next two to four quarters." The immediate market reaction is bad.