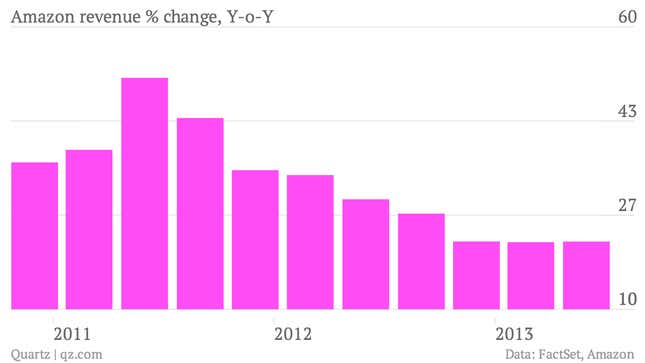 The numbers: Not good. Amazon reported an earnings-per-share loss of $0.02 on revenue of $15.7 billion, which missed analyst expectations. Its shares were down by about 3% in after-hours trading.
The takeaway: Amazon's sales rose by 22%, compared to the same period last year. But analysts had expected Amazon—usually a market darling, impervious to lackluster results—to report a net profit of $0.05 earnings per share. Amazon's surprising loss came amid an increase in operating expenses, going from $12.7 billion in the second quarter of last year to $15.6 billion. Much of that increase was due to a jump in spending on content and technology, as Amazon pushes to become everything to everybody, from same-day grocery deliveries to its forthcoming set-top box for TVs.
What's interesting: Amazon also gave a conservative forecast for its third quarter, making investors a bit nervous. The company will have to show it is disciplined as it makes its spending push, and persuade investors that these investments will pay off in the end. Amazon isn't alone in falling below expectations; eBay also missed estimates when it recently reported earnings. And summer is usually a slower shopping season. Still, Amazon analysts and investors expected more.