The race to become the world's largest automaker is heating up. Toyota hung on to the pole position in the first half of 2013, selling 4.91 million vehicles, compared to General Motors' 4.85 million. But as the carmakers head into the home stretch, the momentum is firmly with GM.
The tide turned in the second quarter, when the Detroit-based automaker outsold Toyota by a smidgen: GM sold 2.49 million cars, compared to Toyota's 2.48 million. GM now hopes to build on the lead by rolling out 18 new or updated cars in the US in the second half of the year. International operations are also boosting GM, with losses in Europe narrowing, and sales in China hitting record highs in the first half of 2013.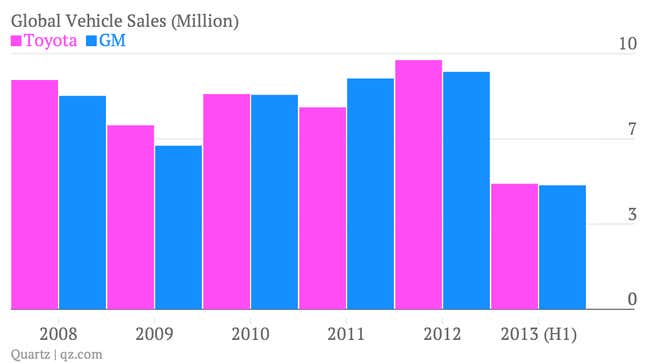 Toyota in contrast is facing headwinds both in its home turf and abroad. In Japan, where Toyota has about 50% market share, sales have been falling since late 2012, after government incentives for consumers to buy fuel-efficient models expired. In China, Toyota gave up market share to GM and others after a territorial dispute led to a backlash against Japanese products last year. And in the US, a resurgent GM and Ford is chipping away at Toyota's lead. Even in the hybrid market where Toyota reigned supreme with its Prius model, competition is catching up. Ford's hybrid sales in Q2 increased five-fold from Q2 2012, on the back of strong sales of the C-Max hybrid and gasoline-electric versions of its Fusion and Lincoln MKZ sedans.
But there's one big lever that Toyota hasn't pulled so far: its currency advantage. Nissan has already taken advantage of the yen, which has declined more than 12% against the dollar this year, cutting prices of seven models in the US. That prompted US car makers like Ford to launch a preemptive strike to deter Toyota from cutting prices, by accusing Japan of manipulating its currency to boost exporters.
But with an ambitious target of selling 10 million vehicles in 2013, and General Motors snapping at its heels, Toyota might have to make some hard decisions. Watch out for the management's commentary, when the company reports its earnings on August 2.