Puerto Ricans continued to pick up the pieces this week, after a direct hit from Hurricane Maria killed at least 10 people, left millions without power, and imperiled the structural integrity of a major dam. The hurricane's devastating effects can even be seen from the broadest possible vantage point: space.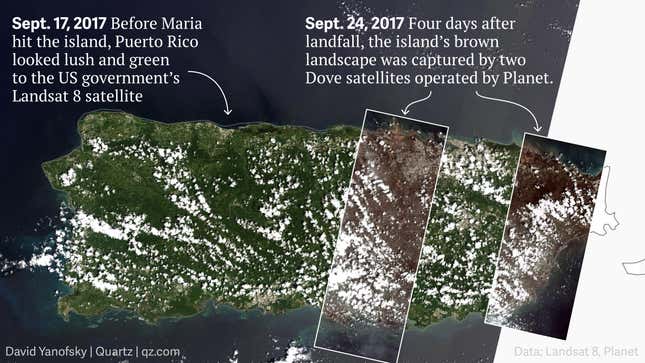 Here's a detailed view of the above, near a reservoir in Comerío. By sliding the bar back and forth, you can see how drastically the landscape has changed and how much the water level has risen.
Chuck Watson, a disaster modeler at Enki Research, told Reuters that the storm had caused an estimated $30 billion of damage and lost economic activity in Puerto Rico.
Beyond immediate concerns around the diminished supply of food, gas, and fresh water, officials are also assessing widespread damage to the island's agricultural industry. When Maria hit the island as a category 4 storm on Sept. 20, its powerful winds stripped trees of leaves and bark, decimated rows of fields, and blew away plants (paywall). The storm wiped out an estimated 80% of the crop value, department of agriculture secretary Carlos Flores Ortega told the Times.
---
Read this next
: