Despite global economic malaise, sales of designer clothes, jewelry and watches are doing nicely. And it's not because of European aristocrats and American hedge-fund managers living it up while they still can, but the newly affluent in the world's poorer nations.
Luxury-goods sales are up 4% over this time last year, according to Euromonitor. This is fueled by gains in the world's top emerging markets, where wealthy shoppers now spend an average $5.8 billion a week on luxury items, well above pre-financial crisis levels. The BRICS alone now account for more than a tenth of global luxury sales.
By contrast, while the US, Japan, Italy, and France still comprise half the global luxury market, growth is mostly flat-lining and, in Japan's case, has plunged 11% since 2007.  The US still accounts for a quarter of global sales, but it's a shrinking share (see chart), and China is expected to overtake Japan as the world's second-biggest luxury market by 2017.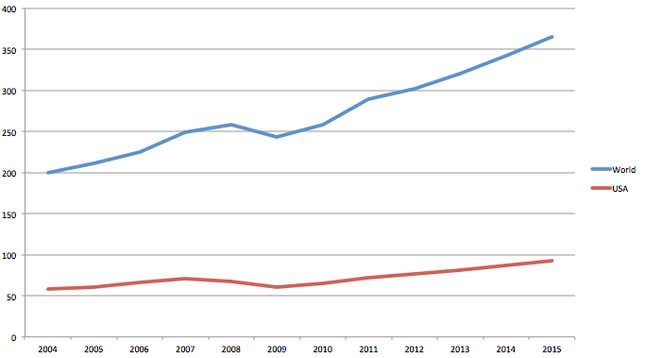 Growing sales are driven not just by the BRICs' rising upper- and middle- classes, hungry for handbags and Hermès, but by improved distribution networks. These have made retailers and shopping malls mushroom. Brazil for example, expects more than 100 new high-end malls to open in the next two years, according to Euromonitor.
In truth, BRIC sales are probably even greater than reported, as many of the richest shoppers buy abroad in order to avoid high taxes and tariffs that they sometimes face at home. In the UK, for example, sales at the luxury retailer Harrods are "underpinned" by tourists from China and Russia, Euromonitor says.