Frankfurt Airport, that land of layovers that could have inspired Beckett's play Waiting for Godot, opened its new Pier A+ on Oct. 2. The addition will supposedly reduce the minimum layover time for plane changing from one hour to 45 minutes.
As those of us who have lived in Frankfurt are aware, the Fraport (as it is affectionately known) is a village unto itself—unofficially, Frankfurt's nicest neighborhood—and it's practically the only place in the city where grocery stores are open on Sunday. According to Volker Bouffier, prime minister of the state of Hesse (where Frankfurt is located), Frankfurt Airport is "by far, the largest employment complex at a single location in all of Germany." Specifically, it has 75,000 staff, including those who work for businesses housed there.
The four-year, €700 million Pier A+ project involved building a lateral westward expansion from the existing Terminal A to accommodate seven new docking positions for planes, three of which are for double-decker jets like the A380 superjumbo. Lufthansa and partner airlines including United will reap the benefits.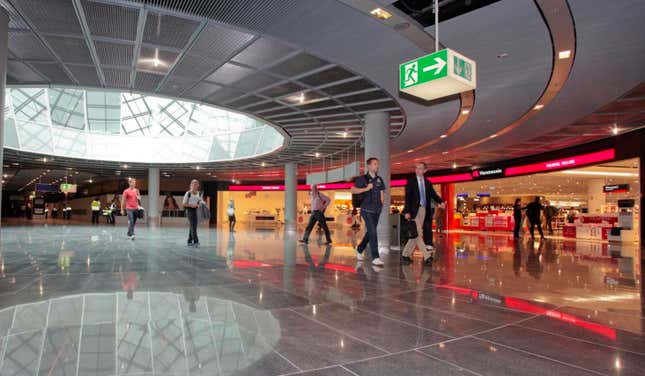 Pier A+ in numbers (source in German):
75% of passengers  (in German) through Fraport are on a layover.
6 million new passengers a year that Pier A+ can accommodate
56 million total air passengers currently pass through Fraport annually
5 Lufthansa lounges; one First Class, two Senator and two Business lounges
60 stores and restaurants
2,000 doors, of which 850 are security doors