"Pacific Rim," Hollywood's robots  vs. monsters summer super spectacular, opens on Wednesday in China, where it may claw back some of its $180 million-plus production costs after disappointing ticket sales in the United States.
Whether it will appeal to Chinese viewers, though, remains a big unknown. On the plus side, most of the film takes place in Hong Kong, it features Chinese characters and a tough Chinese-built robot. But as one South China Morning Post columnist complained (beware a medium-sized spoiler): "Why are the Chinese characters in the film the first to die?"
The movie is not a truly international film—it is only an international movie created through a Hollywood lens. That means while minority characters and a foreign setting may be on display, all of the usual American action movie tropes still apply, including a standard white hero that ends up saving the day.
The movie was created with the opposite intention, according to Mexican director Guillermo del Toro, who is known for his dark and intricately detailed fantasy worlds. He told Salon this month:
Big summer movies often feel to me like it's about one race, one credo and one country saving the world, and I wanted to make it about the world saving the world, no matter what skin color you have, what race you have, what belief you have—everybody in the movie saves the world.
Pacific Rim features giant robots from China, Russia, Australia, the United States and Japan, epic battles in Hong Kong, and some cringe-worthy Australian accents. The global influences and aspirations have given reviewers and industry experts around the world much to chew over since the movie's release.
But, at least in Asia, viewers (it opened already in most South and East Asian countries) are sounding one common refrain. "Always, American save the day, Asian only know kung fu," sighed one on a Singapore-hosted chatroom.
An eye on global audiences, meanwhile, earned Pacific Rim critical digs in the United States, and may have helped to contribute to disappointing domestic ticket sales. The film earned under $40 million in its opening weekend—well below expectations and behind an Adam Sandler-led sequel that was widely panned.
As Anthony Lane groused in The New Yorker (subscription required):
Overseas sales account for an ever-swelling percentage of Hollywood's box office, and it's naive to assume that forthcoming products will not reflect that cultural spread. That is why, in this instance, the stars are a melange of British, Asian, Russian and Australian, some speaking with American accents, some not. What's more, even as the story hops between Alaska, San Francisco, Sydney, Vladivostok, and the Far East, you begin to realize that it could be happening anywhere, or nowhere. Small wonder it winds up beneath the waves.
The film has been described as the "biggest gamble" for Legendary Entertainment and its founder Thomas Tull, because the company is shouldering most of the cost itself, unlike other hits like "Dark Knight" which split the bill with Warner Brothers.
With so much riding on the movie's success, and particularly its international appeal, some of its attempts to include foreign culture seem particularly leaden. In New York's Daily News, art director Alex Jaeger explains the Russian monster-fighting robot.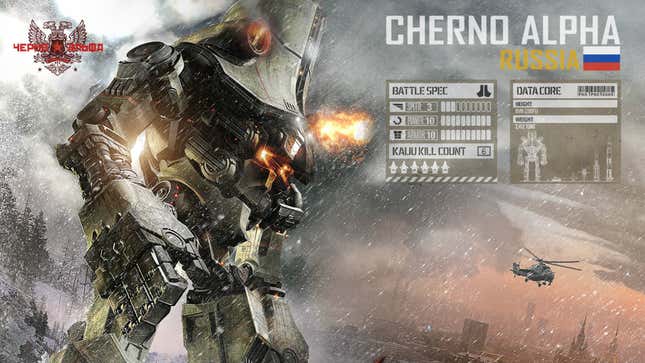 Soviet era engineers would've been proud of Cherno Alpha, the Russian contribution to the defense of the planet in "Pacific Rim." Del Toro and his artists based the blocky Jaeger's shape and paint patterns on a T-series Russian tank, combined with a giant nuclear-reactor containment silo.
"You just picture that this thing is just a big walking nuclear power plant with a cooling tower on its head," says Jaeger.
Maybe it doesn't matter the the film-makers over-arching impression of Russia was the world's worst nuclear disaster, an event that happened nearly 30 years ago. It  opened strong there, part of the $140 million in international sales "Pacific Rim" has already raked in.
The movie also topped the South Korean box office, with 1.2 million tickets sold its first week. Modern Korean Cinema explained:
Its success does not come as a big surprise as Korea has demonstrated a keen appreciation of all things robot at the box office. Among the most successful films of all time here are Transformers 2 and Iron Man 3, while have prevailed while many other global hits have floundered.
Ultimately, the cinematic power of robots may win out. Chinese viewers have "a history with colossal clanking contraptions: 'Transformers 3: Dark of the Moon' is one of the all-time box office hits there, taking in $145 million in 2011," Reuters noted.
Tull, Legendary's founder, explained their approach to Asian markets this way in a recent interview:
We've been in the Chinese market for a while. But we certainly don't set out to say, okay. We need a scene for this. Let's make sure we shoot this specific scene to make sure that it appeals. It all has to fit naturally within the story
Maybe next time, they'll let the Chinese guys save the day.