Just as Twitter is coming under increased scrutiny over its ability to limit political misinformation, new data suggests fake news was nearly as ubiquitous as credible news on the platform in the days immediately before and after the US presidential election in 2016.
Researchers at the Oxford Internet Institute made the discovery by analyzing 7 million tweets posted in the US in the first 11 days of November 2016; the election was held on November 8. Roughly one million of those tweets included links to political content, 256,725 of which pointed to credible news outlets, and 203,591 to fake news sources.
Combining links to fake or "junk news" sources with links to WikiLeaks and Russian media outlets, the researchers found that "nationally, Twitter users got more misinformation, polarizing and conspiratorial content than professionally produced news." Moreover, the number of links to those sources "were higher in swing states than in uncontested states, even when weighted for the relative size of the user population in each state."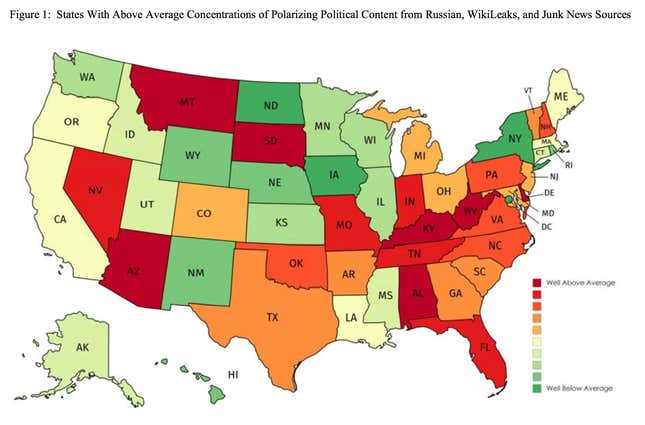 Of course, while WikiLeaks and Russian media are questionable and agenda-driven sources of information, they don't necessarily fit into the category of fake news, and their inclusion somewhat complicates these findings.
The research does suggest, however, that propaganda and misinformation on Twitter are bigger problems than the company implied in its Sept. 28 briefings with the Senate Intelligence Committee investigating Russian interference in the 2016 US presidential election. And in a blog post Twitter published after those briefings, the company dismissed research conducted by outside parties, saying it fails to accurately measure impact.
"Researchers using an API often overlook the substantial in-product features that prioritize the most relevant content," the company said. "Based on user interests and choices, we limit the visibility of low-quality content using tools such as Quality Filter and Safe Search—both of which are on by default for all of Twitter's users and active for more than 97% of users."