A gunman identified as Stephen Paddock killed 58 people and injured more than 515 others by firing from the 32nd floor of the Mandalay Bay hotel in Las Vegas, Nevada towards the Route 91 Harvest country music festival.
Authorities said no other shooters were involved and the US Department of Homeland Security added that there was no "specific credible threat involving other public venues."
The deadliest mass shooting in US history targeted the audience at the festival on an 15-acre lot across Las Vegas Boulevard from the hotel. The death toll surpasses that of the Orlando, Florida shooting at the Pulse nightclub in June 2016, where 49 were killed.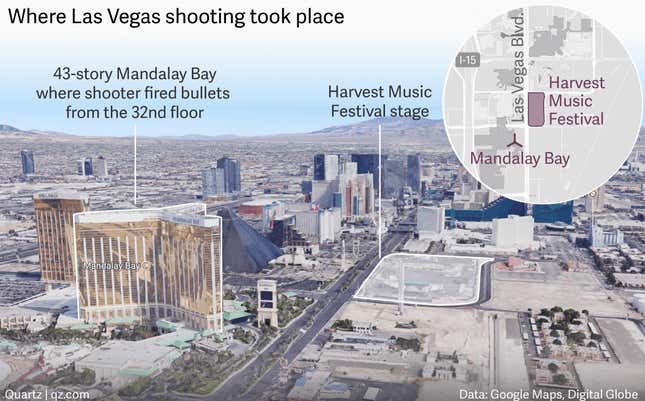 An off-duty police officer attending the concert was among those killed. Authorities have not yet publicly named the other victims, and provided a contact number for family and friends seeking information: 1-866-535-5654. Police confirmed that two officers on duty were injured.
Trump speaks from the White House
US president Donald Trump addressed the nation after initially tweeting that he sends his "warmest condolences" to victims and their families: "We are joined together today in sadness, shock and grief. It was an act of pure evil. The FBI and the Department of Homeland security are working closely with local authorities to assist with the investigation and they will provide updates as to the investigation and how it develops," he said.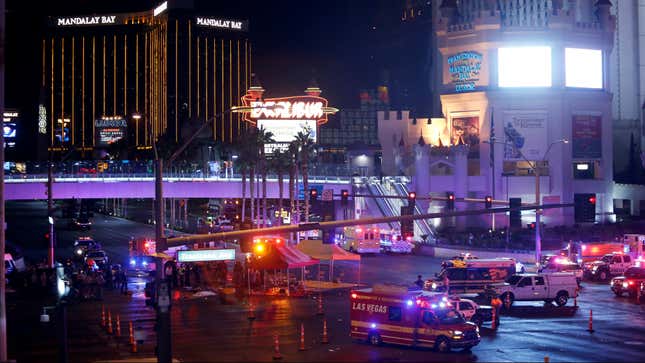 Trump also thanked local authorities, "the speed with which they acted is miraculous. To have found the shooter so quickly after the first shots were fired is something we for which we will always be thankful. We cannot fathom their pain, we cannot imagine their loss. The families of the victims we are praying for you, we are here for you."
He did not mention gun control despite the speech being on the deadliest mass shooting in US history. This is especially pertinent as the shooting took place in Nevada, which has some of the laxest laws on guns and ammunition in the US.
The shooter was a "lone wolf"
Joseph Lombardo, the Las Vegas sheriff, said there was only one shooter—"a lone wolf" named as the 64-year-old Paddock—who was found dead in his hotel room. Police confirmed he was a resident of Mesquite, Nevada, a retirement and golf community of about 20,000 that is 80 miles from Las Vegas. Mesquite police spokesman Quinn Averett said that Paddock had no prior arrests or even a record for a single traffic violation.
Lombardo said there is nothing "derogatory" in the background of the suspect and that "we believe the individual killed himself prior to our entry." Some 10 guns were found in Paddock's room, from which he fired multiple rounds.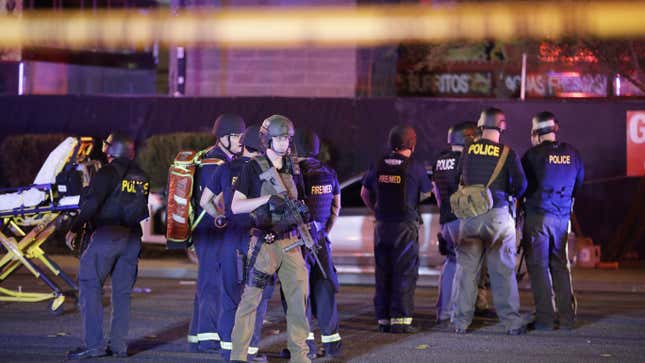 The police say the investigation will be long and protracted. The Clark County district attorney, Steve Woodson, said that "this was a classic WMD. This was a weapon and a man of mass destruction. This doesn't involve politics. All of us are Nevadans. We're working to get through this."
Paddock's house was under search by authorities. Meanwhile, the brother of the shooter, Eric Paddock, went on CBS News and described his shock at what transpired. He said he was confused how his brother obtained automatic weapons and that Stephen Paddock was "just a guy that lived in a house in Mesquite," and who "ate burritos."
"Not an avid gun guy at all…where the hell did he get automatic weapons? He has no military background," gunman's brother says pic.twitter.com/EMSKLQGYFM

— CBS News (@CBSNews) October 2, 2017
When it all started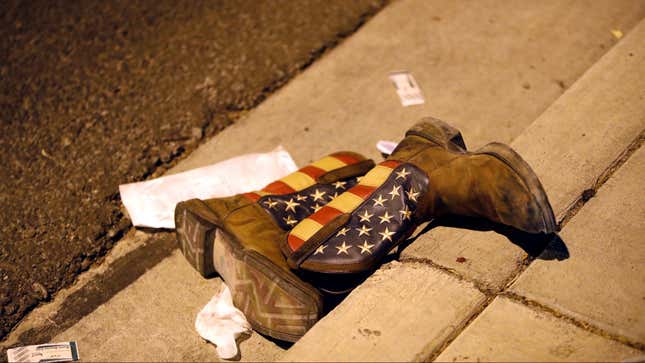 The police said it all started when around 10:08pm local time, the police received calls that multiple shots were being fired at the concert.
The police found out that the shooter was on the 32nd floor of Mandalay Bay hotel and after a SWAT team used a controlled explosion to breach the room, he was "engaged." Authorities say he had already been shot by the time authorities entered his room.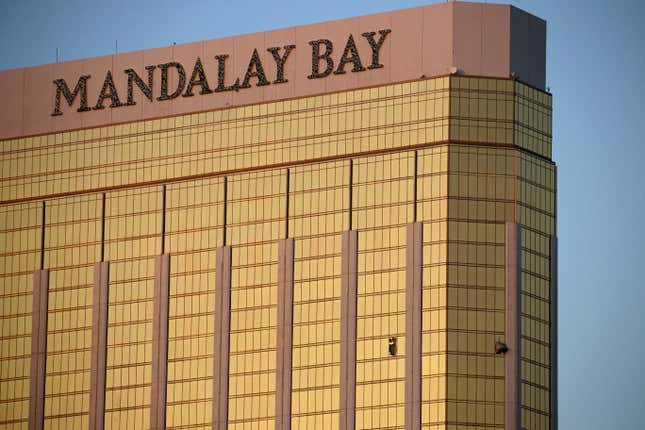 Investigators do not believe there were any other shooters. However, the police initially appealed for the public to aid the search of a "companion" allegedly traveling him, Marilou Danley. Friends now she has been out of the country.
Marilou Danley is being sought for questioning re the investigation into the active shooter incident. If seen please call 9-1-1! pic.twitter.com/Z83XvcHejH
— LVMPD (@LVMPD) October 2, 2017
Festivalgoers flooded social networks with video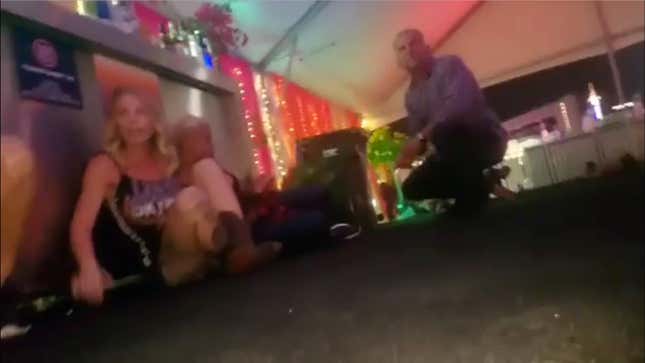 The shooting started when people on the upper floors of the Mandalay Bay hotel and casino across Las Vegas Boulevard from the festival saw flashes, and heard what sounded like automatic gunfire. People soon started posting videos from the scene of the attack, showing festivalgoers cowering from gunfire:
Gunman shooting at people at the #MandalayBay concert in Las Vegas pic.twitter.com/JHv0PoPhbL
— Berenabas (@BerenabasG) October 2, 2017
There are videos of people running away from the incident. Dan Blizerian, an Instagram star, put a video on Snapchat while running away from the incident claiming that he saw a woman being shot in the head:
This is so scary, can't imagine being in a situation like this, everyone in Las Vegas stay safe :( pic.twitter.com/kG9gEwI8k8

— alex (@alexzzzle) October 2, 2017
Others posted pictures of the fallout from the initial shooting:
Snapchat videos coming from the Snapchat map in Las Vegas where there is an active shooter. pic.twitter.com/ItPRm3cxpG pic.twitter.com/45FKNvRtJb

— Andrea Berger (@AndreaBergsjl) October 2, 2017
Further details emerged that the shooting began during the performance of country music star Jason Aldean at the festival, which has been held at Mandalay Bay for the last four years. The music stopped and the 22,000 fans in the crowd began to flee, which was captured on camera by an Instagram user. The sound in the background appears to that of automatic fire:
Shots fired! Barelly made it out with @breskags. Scariest moment of my life. They just kept firing and firing. Please god let everyone be ok

A post shared by Russell Bleck (@rtbleck) on Oct 1, 2017 at 11:03pm PDT
An appeal from the authorities
Police have asked people who have videos or pictures that may help their investigations to make them available to investigators. Authorities are also asking the public to donate blood to help the injured. Adam Laxalt, Nevada's attorney general, said "we've never been hit with such a tough situation," and donating blood is paramount to helping the victims.