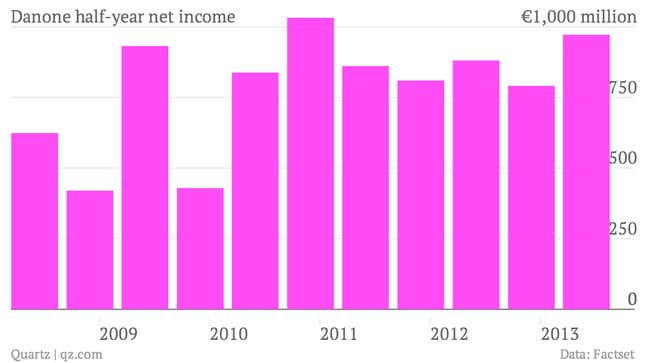 The numbers: Not bad. The French food group's like-for-like sales for the quarter ended June 30 rose 6.7% to €5.72 billion ($7.6 billion) compared to the same quarter last year. Net profit rose to €972 million for the first half of the year, from €881 million a year earlier. Danone's share price rose by as much as 3.7%.
The takeaway: Danone is still doing well out of the distrust that has surrounded Chinese-made baby products since tainted milk formula killed six children and sickened thousands in 2008. Sales of baby products—which make up about 22% of revenue for the company that also produces Evian mineral water and Activia yogurt—grew 13.5%. That was driven mostly by China and Hong Kong, the company said in a presentation of the results today, July 29. Sales in Asia, Latin America and the Middle East were up 15.3%, compared to 10.2% in North America and -3.0% in Europe.
What's interesting: It's not all smooth sailing in China. Last month Chinese authorities began investigating Danone and other baby formula makers for price-fixing, prompting Danone to cut its prices in the country by as much as 20%. "Price reduction in China will have an impact but a manageable impact. Long term, we see China and Asia as strong growth profiles but we are prepared for ups and downs," finance chief Pierre-André Terisse told analysts today.