As the comedian Marc Maron pointed out in his new standup special, Too Real, Tom Petty was the rare artist who both liberal bohemians and cultural conservatives could agree upon.
"Everybody loves Tom Petty and burritos," said Maron, though he added that even Petty might not be able to help him communicate with Trump supporters. "I don't think Petty is enough to bridge this gap. I just don't think that he has this power at this juncture."
Petty, the beloved American singer, songwriter, and guitarist, has passed away at 66 years of age. He was hospitalized following a heart attack at his home in Malibu, California, and died at 8:40pm local time on Monday (Oct. 2).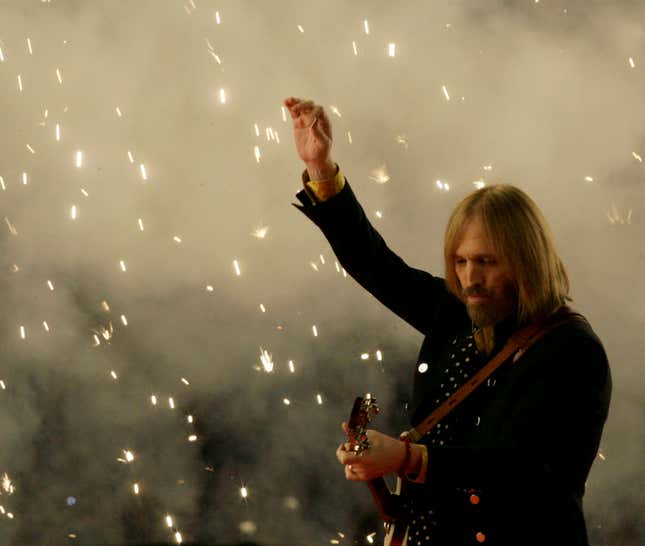 Earlier this year, The New Yorker's Nicholas Dawidoff made the case that Petty's songs, which consistently channeled the adolescent spirit of a semi-downtrodden guy, had accidentally merged with a greater national feeling among many American men: "the aggrieved feeling of victimization—the prevailing sense that people are out to wrong you, reduce you, and there's nothing you can do to fight back against those who want what you have."
Dawidoff observed the abundance of white men in the audience at a Petty concert earlier this year, who "exulted at the most pissed-off Petty lines."
Yet—as Dawidoff himself acknowledged—if there was a political reading of those lines, it was probably not intended by the singer, who had stepped in to stop Republican political candidates from using his songs at rallies. In 2000, he told the George W. Bush campaign to stop playing "I Won't Back Down," and 11 years later he sent a cease-and-desist letter to Michele Bachmann after she played "American Girl" at a campaign rally.
Barack Obama, however, got more than a pass in 2012 for using "I Won't Back Down" at the Democratic National Convention: "I got chills," Petty told Rolling Stone. "They knew it would be OK. I've had a chance to meet the president and talk to him about the music he listens to."
While some might have viewed the musician as less political than his contemporaries, Petty—who has been likened to a "Southern Springsteen"—didn't hesitate to publicly commend the lowering of the Confederate flag in South Carolina in 2015. He was still apologizing for having flown it himself on a tour in the 1980s, when he said the flag was meant to represent a troubled southerner who was a character in a song. Petty said he felt "stupid" for having ever flown the Confederate flag, remarked on its insensitivity, telling Rolling Stone the country had bigger problems:
We're living in a time that I never thought we'd see. The way we're losing black men and citizens in general is horrific. What's going on in society is unforgivable. As a country, we should be more concerned with why the police are getting away with targeting black men and killing them for no reason. That's a bigger issue than the flag. Years from now, people will look back on today and say, "You mean we privatized the prisons so there's no profit unless the prison is full?" You'd think someone in kindergarten could figure out how stupid that is. We're creating so many of our own problems.
Here's Tom Petty playing his hits "American Girl," "I Won't Back Down, "Free Fallin'," and "Runnin' Down a Dream" at that most American of spectacles: the Super Bowl halftime show, in 2008: