While Facebook is under investigation for the role it may have played in Russian meddling in the US election, fake news and conspiracy theories continue to spread rapidly on the platform, particularly after the Las Vegas massacre.
They are being shared and viewed tens of thousands of times each hour, with no warnings whatsoever that they might be fake—and often no way for readers to flag them as "fake news" to the company, despite its pledge to do more to crack down on lies and propaganda.
A video posted by Infowars founder Alex Jones posted today (Oct. 4), for example, asks:
Could Stephen Paddock, the lone Vegas shooter, have been a patsy to kick off the left's war with the right in the streets of America and to simultaneously roll in the Rapiscan naked body scanners that profit former DHS Secretary Michael Chertoff, George Soros and a handful of lobbyists connected to the management of the Mandalay Bay Hotel and Casino?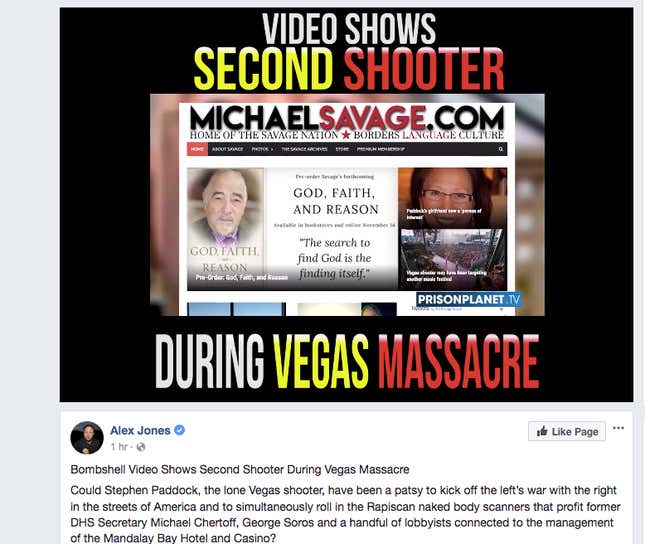 Jones claimed that the Sandy Hook massacre that killed 20 children in 2012 was a hoax, and spread the "Pizzagate" conspiracy that falsely claimed a Washington DC store was a front for a pedophile ring (he later apologized for his Pizzagate remarks).
There's no flag on Jones's Facebook page or any of his posts telling Facebook users that he might be a "disputed" source of information. Within two hours of being posted to Facebook, the video above was viewed 120,000 times, and shared nearly 3,000 times.
Facebook CEO Mark Zuckerberg said in December the company would make it easier for people to report hoaxes, and would send suspected stories to a third-party group of fact-checkers who would mark a story as "disputed" if they conclude the story is a hoax. In April, the company said disputed posts would be accompanied by "related articles" that would offer fact-based alternatives for users to read.
Because the Jones post is a video, and not a "news" article, there's no way for users to flag it right now as fake news, for it to be fact-checked, or for the company to attach "related articles" that might be more truthful. Facebook is still developing its video-reporting function, a person familiar with the company's strategy told Quartz, and will roll it out as soon as it is available.
Facebook has been touting video as a fast-growing way for its clients to reach customers and "dial up emotion and engagement," and said "daily watch time" of Facebook live videos had quadrupled from May 2016 to May 2017. The company's overall daily video views doubled from April to November of 2016, reaching 8 billion (the latest statistics available). In five years, Facebook will "probably be all video" an executive predicted last year.
However, if users want to flag videos like Jones's as misleading, their only options now are to label it "annoying," "something that shouldn't be on Facebook," or spam. The "shouldn't be on Facebook" option leads to another window, that again doesn't mention disputed information.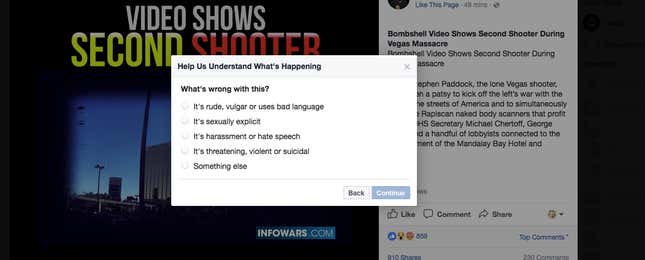 And the "something else" option only allows users to choose between advertising drugs, guns, or adult products, or "an unauthorized use of my intellectual property"—there's no mention of fake news.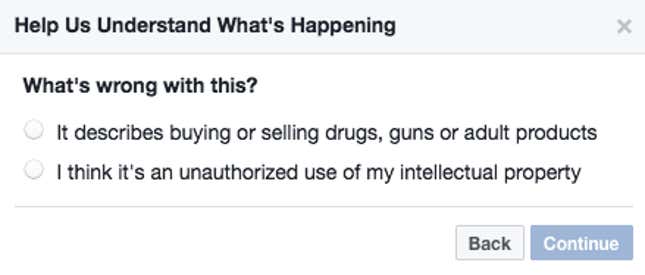 There are plenty of other Facebook pages pushing lies and conspiracy theories about Las Vegas, with no evidence, and no warning from Facebook. Truthfeed, for example (nearly 693,000 likes overall) claims that "Antifa" groups were celebrating the massacre, a common conspiracy theory among far-right websites.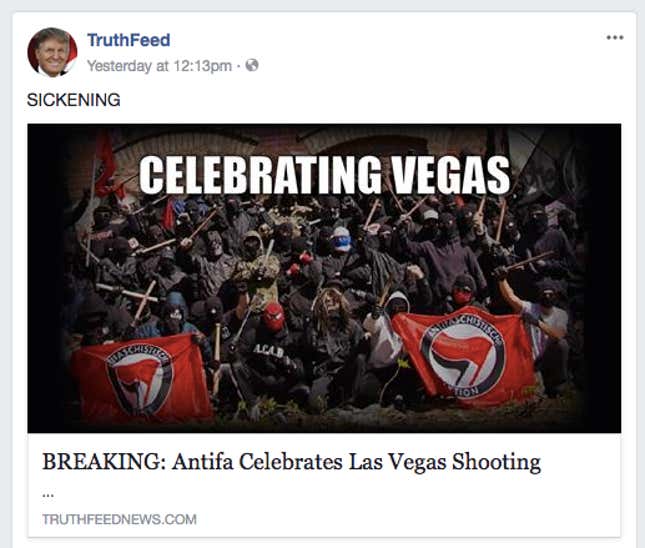 Asked about the proliferation of conspiracy theories related to the Las Vegas shooting on its platform, a Facebook spokesman said:
While we don't typically discuss specific links, we're sending articles that our classifier identifies as potential hoaxes (based on user reports, disbelief comments, and other signals) to our fact checking partners. When they mark them false, we're showing them lower in News Feed and applying Related Articles as an option.
Even amidst the investigations into Russia's interference in the US election, Facebook has maintained that it wants to be a conduit for discussion, and not an arbiter of truth. "I'm not going to sit here and tell you we're going to catch all bad content in our system," Zuckerberg said on Sept. 21 in post. "We don't check what people say before they say it, and frankly, I don't think our society should want us to. Freedom means you don't have to ask permission first, and that by default you can say what you want."