Luxury automakers are getting the chills in China.
Xinhua, China's state-owned news agency, reported this week that foreign auto manufacturers are charging premium prices in China that are significantly higher than what they charge the rest of the world. The report was widely interpreted as a warning sign of an imminent pricing investigation, much like foreign manufacturers of infant formula and pharmaceuticals in recent weeks, because the government often uses Xinhua to telegraph its intentions.
This ominous development for luxury automakers comes as sales of foreign cars in China are already falling off due to a slowing economy and a crackdown on conspicuous consumerism by government officials "The days of breakneck growth are over," BMW's president and chief executive in China, Karsten Engel, told the Wall Street Journal last month.
Vehicle imports dropped 10.7% in the first half of 2013, Xinhua reported earlier this month—the first drop in half-year imports since 2006. But even as its economy slows, China is still the world's biggest car market, and may top the US in luxury car purchases by 2016.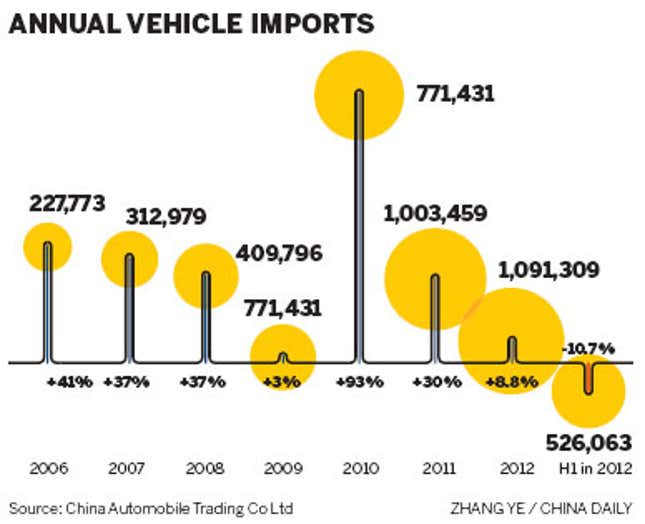 The Xinhua report accusing foreign carmakers of profiteering included several examples of Chinese buyers paying more than foreign buyers for the same automobiles, including a "man surnamed Qu who had bought an Audi Q7 in Canada for 78,000 Canadian dollars, or about 460,000 yuan ($75,000), and who was shocked to see the same car on sale in China for 1 million yuan." Automakers Jaguar Land Rover and BMW were also cited as having higher prices in China.
Making accurate comparisons of international automobile prices is a difficult matter. Audi, the top-selling luxury car brand in China, said in a statement: "Most of the price differences between some imported models in China and for example Germany result from import duties and taxes in China. In addition, the entry price vehicles in China are usually higher equipped than the base models in Germany."
In China, luxury cars are more than just status symbols—they are political hot potatoes. One-fifth of all Audi A6s sold in China was going to government institutions as recently as 2011, but that percentage is presumably lower in the wake of President Xi Jinping's crackdown on "official extravagance." The scolding by Xinhua suggests that Beijing wants to make sure that the remaining buyers of luxury cars (including the recently relaunched Hongqi sedan once favored by Chairman Mao) are at least getting a good deal.