Billy Elliot is a distinctly British story about dancing, labor rights, gender, class, and sexuality. But since it first burst onto screens 17 years ago, this small, low-budget film has grown into a global phenomenon.
No one was more surprised with the film's initial success than movie director Stephen Daldry, who went on to direct an award-winning musical based on the film that's been performed across the world and in a variety of languages—the show opened in Madrid, Spain yesterday (Oct.5). Over the years, however, Daldry has come to fully appreciate how the film's message, and the topics it tackles, easily crosses borders.
The veneer of Billy Elliot is a film about a working class boy, who wants to be a ballet dancer, growing up during an historical event—the miners' strike, which was widely dubbed as "the most bitter industrial dispute in British history). But Daldry told Quartz in an interview at the One Young World Summit in Colombia about how it's so much more than that: "It's also a story we all know—someone trying to express himself or herself."
This is portrayed in the film's most memorable scene; when Billy auditions at The Royal Ballet School. Just as Billy and his father are about to leave the room, one of the judges on the panel asks Billy: "What does it feel like when you're dancing?" Billy pauses before saying, "dunno." Two judges on the panel, including the one who asked the question, look disappointed.
Billy eventually answers and in just over a minute, his broken sentences and raw description makes a powerful statement on how expression through art can set you free.
Finding a voice
The scene is particularly poignant because it literally and metaphorically represents Billy finding his voice through dance and the freedom that accompanies that discovery.
"Billy is struggling to articulate something that he has never had to articulate [before]," Daldry explains. The other young dancers, who've grown up in a more privileged setting, find it easier to talk about what they love about the art form they've chosen. However, for Billy, dance wasn't just a hobby, it saved him.
The scene is an interesting exploration of French sociologist Pierre Bourdieu's theory of "cultural capital," which suggests that someone's clothing, mannerism, style of speech, and taste (to name a few) not only demonstrate someone's competence, but their social position in society. Unable to initially answer the judge's question, Billy shows how limited his world has been.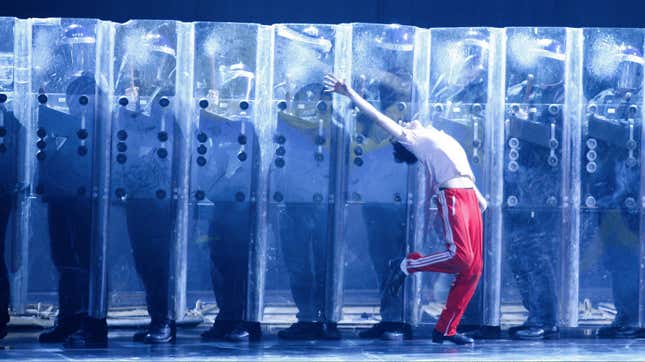 Billy eventually answer and says: "Dunno. It sort of feels good. It's sort of safe and that… But, once I get going, I sort of forget everything. I sort of disappear. I can feel a change in my whole body. I'm just there… I have this fire in my whole body. I'm flying… like a bird. Like electricity… Yeah, like electricity."
Though the speech is raw and not as articulate as he wants, Billy's response is "very honest and very emotional," Daldry says – the scene is "a struggle of struggle." But it's not just about Billy finding his voice, "it's about the dad as well. He has never heard his son express what he feels like."
Daldry added that the question the panel poses Billy—"what does it feel like when you're dancing?"—is a "spur" for "him to explain to his father why they are there in the first place. He [Billy] is not really telling the panel at all. He's actually telling his father what he feels like."
A snipe at the liberal elite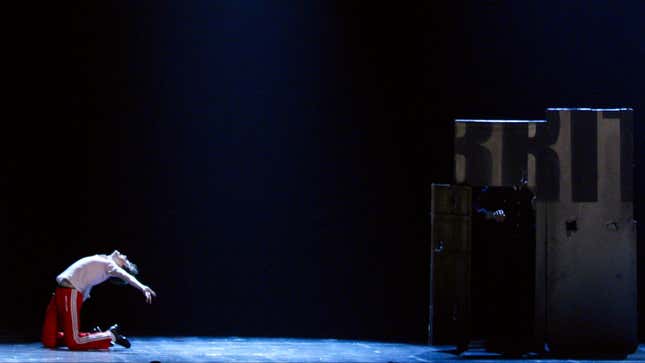 The scene ends with Billy and his dad walking away, when another judge says "Mr Elliot, good luck with the strike." Daldry laughs and says the end "was a joke about the liberal, arty, vaguely left, but not really."
Billy's speech on why he loves to dance had clearly thawed the panelists, but in an attempt to show solidarity with Billy's father—who is striking alongside thousands of miners across the country—the judge ends up being "sort of patronizing," Daldry says. It's often the artistic elite who often say "'I so hope your working class struggle goes incredibly well for you.'" Though a joke, it highlights many liberals failure to comprehend just how devastating the miners strike—and the eventual loss of coal mines—was to working class communities across the country.
For Daldry, the "loss of community" is key to the film's global appeal. "It doesn't matter where you are in the world, people understand the idea that you're part of an industrial, working class group that is being discarded." And its question—of what happens to communities devastated by de-industrialization and privatization—has been thrust into the spotlight with the Brexit vote and the election of Donald Trump.
"I'm not suggesting that people want to be miners. Or that mining is a good idea. Or a reliance on fossil fuels is a good idea. But what I do know is a good idea is keeping those communities strong, safe, and giving them a valid means of employment," Daldry says. The consequences of not doing that, as well the destruction of the labor movement juxtaposed with the "weird kid that wants to get out," makes the message behind Billy Elliot just as relevant now.
The One Young World, which gathers 1,300 young leaders from all 196 countries to tackle the globe's most pressing issues, contributed to accommodation of the writer's trip to Colombia.