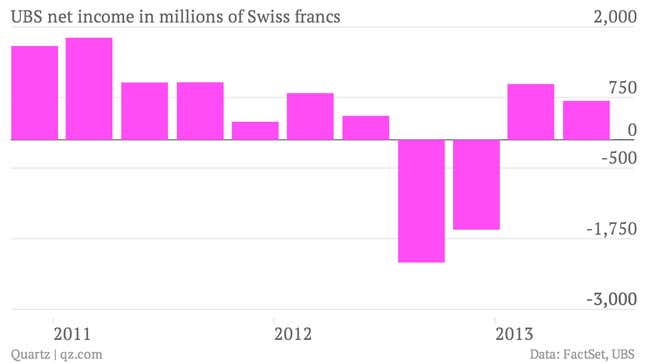 The numbers: Pretty good. UBS's net income rose by more than 30% to 690 million Swiss francs ($742 million). Revenues increased by about 15% to 7.4 billion Swiss francs.
The takeaway: UBS's performance is even more impressive considering that UBS recorded 865 million Swiss francs in legal and other costs. Legal fees hurt Deutsche Bank's profits, but UBS was helped by a strong performance in its crucial wealth management division, which offset the increase in expenses. In the meantime, profits fell at UBS's investment bank, which the Swiss firm is shrinking to focus on its wealth management business. UBS CEO Sergio Ermotti said in a statement that the "results show that our strategy is right and we're ahead on execution."
What's interesting: Despite the bank's strong earnings, UBS warned that the rest of the year could be challenged by fears that the US Federal Reserve will taper its bond buying program, which has kept interest rates low. It also worries about the European debt crisis continuing to hurt the economy, which could affect client confidence levels and activity.