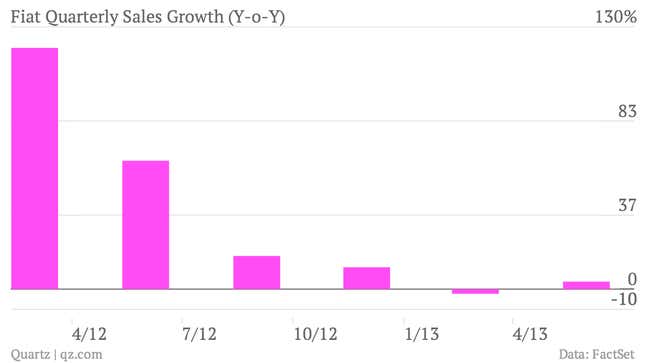 The numbers: Steady earnings, weak outlook. Fiat's second quarter earnings handily beat analyst expectations driven by strong sales from its US subsidiary Chrysler. Revenues increased 3.7% to €22.3 billion ($29.5 billion) (pdf), while trading profit, or earnings before interest, taxes and one-time items, crossed the €1 billion mark, rising 9% from the year-ago period. But the Fiat stock fell almost 5%, after the company said that the Chrysler unit could miss its operating profit target by as much as 13%.
The takeaway: Chrysler continues to be Fiat's main engine of growth. Without it, Fiat would have posted a loss of €247 million in the second quarter. But the Detroit-based carmaker expects investments in new models like the Jeep Cherokee to weigh on its performance this year, forcing it to reduce its 2013 operating profit forecast (pdf) to $3.3-3.8 billion, compared with its previous target of about $3.8 billion.
What's interesting: Even as it turns cautious on its US operations, there are some bright spots for Fiat on its home turf. Losses in Europe narrowed to €98 million from €138 million a year earlier, raising hopes that the company is on track to meet CEO Sergio Marchionne's goal of ending losses on the continent by 2016.