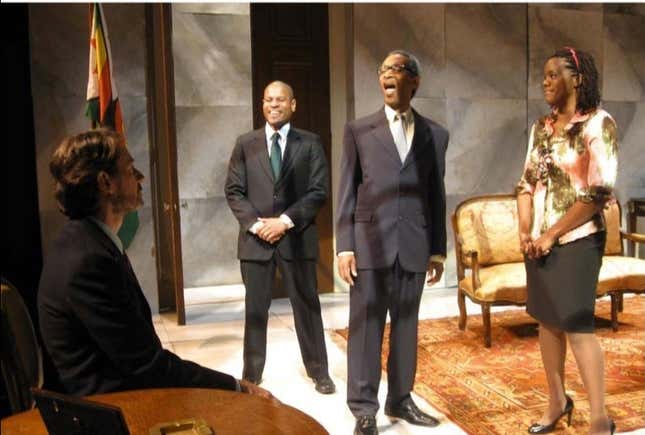 Since Breakfast with Mugabe was first produced back in 2006, I've been delighted and relieved to see that not all of the news coming out of Zimbabwe is bad. In the past couple of years in particular, there have been material improvements in the lot of many—though by no means all—of Zimbabwe's people.
Schools and hospitals have been reopening, shops have something back on the shelves. The current power-sharing arrangement between Mugabe's Zanu-PF and the Movement for Democratic Change (MDC) led by Morgan Tsvangirai seems to have delivered some much-needed stability, economic and social.
Now we are at elections again: will the MDC get credit for the improvements of the last few years? Tendi Biti, the finance minister and an MDC leader, is generally thought to have performed particularly well, and Morgan Tsvangirai, taking on President Robert Mugabe for a third time in the polls, is still respected for his courage.
But this may be beside the point—the equation for Robert Mugabe remains the same: a win for MDC means defeat for his own Zanu-PF and in that simple truth lies the Zimbabwe's crisis. Robert Mugabe has shown himself unwilling or incapable of relinquishing power, and the military that supports him has previously declared they will not support a leader who is not a liberation war veteran.
The business community, local and international, and many others inside Zimbabwe may be desperate for a clear result; everyone will hope to avoid the bloodshed that ensued the last time MDC got close to taking power—but in Mugabe's Zimbabwe, only one "clear result" can be contemplated; optimism—at least—continues to be in short supply.