Add another name to the list of powerful men in media and entertainment—Bill Cosby, the late Roger Ailes, Bill O'Reilly—who now have decades of (alleged) bad behavior suddenly catching up with them.
Yesterday (Oct. 8), the board of the Weinstein Company, the studio co-founded by Harvey Weinstein, put out a statement that it had fired Weinstein "in light of new information about misconduct… that has emerged in the past few days."
The statement wasn't made available on the company's social media accounts, including Twitter or Facebook, which have continued to promote the studio's various ventures and something called the Lovie Awards, even as comments piled up over the weekend calling for Weinstein's firing.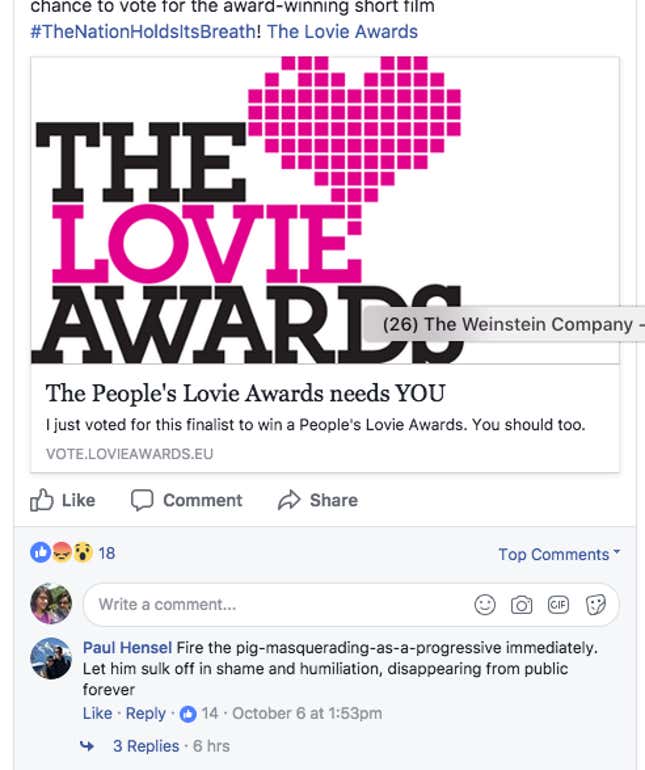 The move followed an investigation by the New York Times (paywall) published last week that detailed eight settlements between Weinstein, one of Hollywood's most powerful studio executives, and actors including Ashley Judd and Rose McGowan, as well as female employees, in relation to allegations of sexual harassment. In the wake of that report, much of the company's all-male board resigned, while Weinstein went on a leave of absence. The firing was made by the few remaining board members, including Weinstein's brother Robert Weinstein.
Weinstein told the Times that he was seeing therapists and "trying to do better." He also hired lawyer Lisa Bloom to advise and consult with him on those efforts. Last week Bloom told the Times that Weinstein denies many of the claims; she later announced that she is no longer advising Weinstein.
Weinstein has been skewered widely for defending himself by saying that he "came of age in the '60s and '70s when all the rules about behavior and workplaces were different. That was the culture then." But there certainly has been a cultural change since Weinstein began his career. In recent years, women have been speaking up a lot more openly about the difficulties they face in in the entertainment industry, from the lack of opportunity for women to play anything other than a sexual or love interest, to pay gaps, to widespread sexual harassment.
But while Democrats—many of whom count Weinstein as a donor (paywall)—may be running as far from the producer as they can, many in Hollywood still haven't found their voices.
The fallout from the Weinstein investigation is only just getting started, and is likely to extend from Hollywood to Washington and New York. Along the way, there are going to be many difficult conversations.