Sitting in traffic may be frustrating, but to INRIX, a company that collects data on millions of miles of road around the world, it's the sign of a healthy economy. And looking at INRIX's data through the first half of 2013, American roads are indicating the US economy is improving, while European streets are more uncertain.
Ireland, Switzerland, and the United States saw the largest increases in automotive traffic in the first half of 2013, while Portugal, Hungary, and Spain experienced the largest declines.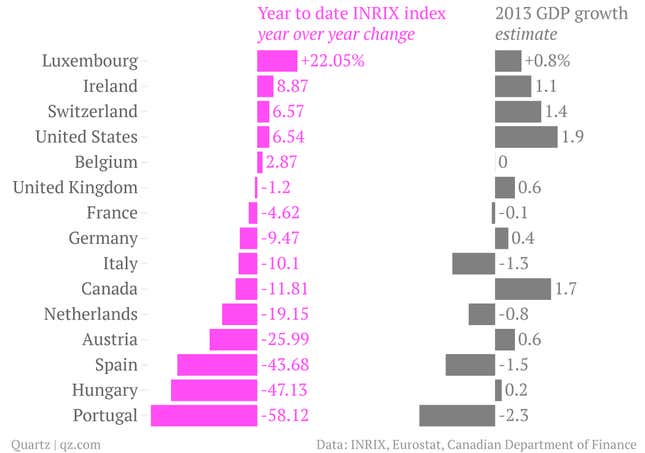 Traffic is used as a proxy for economic activity because it measures people going to work and deliveries being made, according to INRIX. While the capacity of a road changes infrequently, the commerce that transits them fluctuates.
Congestion on US roads was up 8.3% from last June, according to data released today. Data from Europe show that Hungary saw the largest traffic increase of the 32 nations INRIX tracks, up 107% from June 2012. However, traffic in Hungary was down 47% in the first half of 2013, second only to Portugal, which saw congestion decline 58%.
The largest traffic increase in a metropolitan area in the first half of 2012 was in Palermo, Italy, up 91%. Excluding cities in the US, which vastly outnumber other covered areas, the largest increases have come in Geneva, London, and Luxembourg.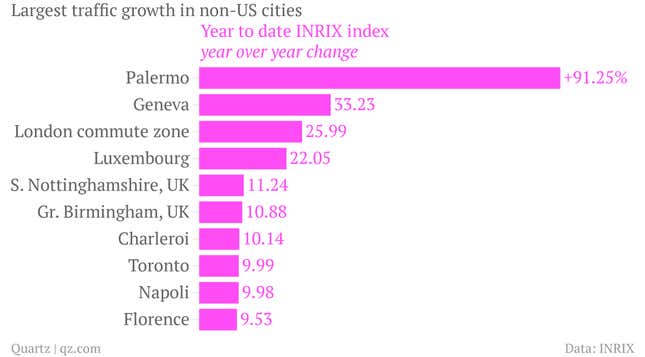 Five of the ten cities with the largest declines in congestion this year are in Spain, and two are in Portugal.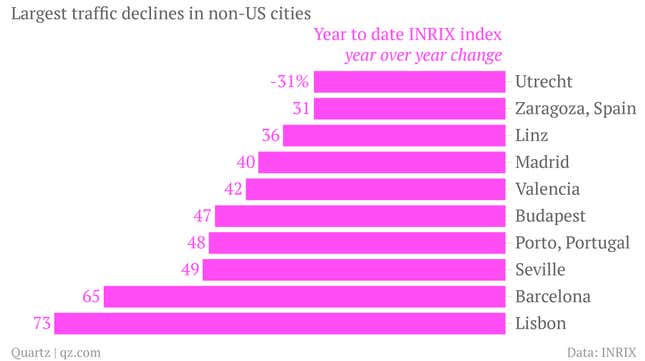 The most congested roads are getting even more use. Fifteen of the most congested 25 cities have seen slower travel times in the first half of this year.
Milan topped the list of the most congested cities, with transit times elevated by 38.5% in June. However unlike many on the list, Milan saw a 3.3% decline in congestion. The INRIX index of a country or city represents the extra time an average trip takes due to increased traffic during rush hours. A city without congestion would have an index of 0.