Snapchat has evolved from an app derided as a medium for sexting teens into a public company with a robust audience and advertising business, albeit comparatively small next to competitors like Facebook. But its newest feature could push the ephemeral messaging app even further, turning into something that goes well beyond picture messages and dog filters.
Its parent company Snap announced Oct. 10 that it will be rolling out what it's calling "Context Cards," a new way for users to get information about the places from which people are snapping.
Within Snapchat, users will now able to swipe up to get more information on the physical location—or business—from which a snap was sent. The function will work on both snaps from friends and on Snap Maps, the Snapchat-curated map of snaps of user-generated happening around the world. The cards will include location data and other pertinent information, including menus, phone numbers, reviews, details on how to make a reservation, and the option to book a ride there.
Snap has partnered with a range of companies to provide information and services through Snapchat, including Uber, Lyft, TripAdvisor, Foursquare, Michelin, Goop, OpenTable, Resy and Bookatable. Snapchat currently is not monetizing this function, but it's easy see how this could increase the time users spend within the app; the Context Cards have the potential to make Snapchat more of a destination for users to plan and document their daily lives.
Right now, Snapchat is an enjoyable and often engaging app. Because it doesn't have the highly curated feel of, say, Instagram, Snapchat comes off as authentic, and surfaces images and video in surprising ways. Recently, for example, it has acted as a compelling lens on global tragedies. Advertisers, meanwhile, like the sheer amount of time Snapchat's users spend with the app: Snap recently told Quartz that its over 170 million users spend an average of more than 30 minutes with the app each day. The more time users are on the app, the more chances there are to advertise to them.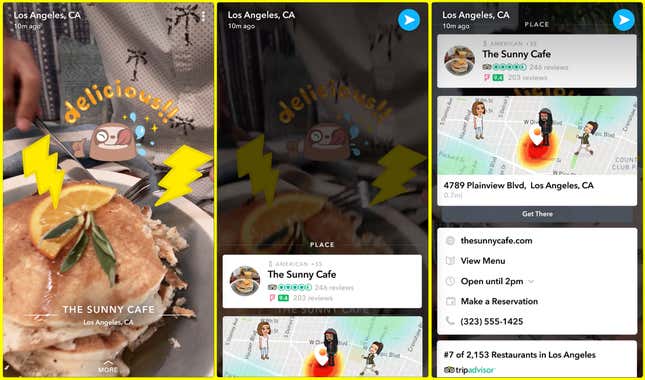 But Snap's entire revenue, which comes almost completely from advertising, would be essentially a rounding error on the earnings reports of its competitors. In the last quarter, Snap generated about $182 million in revenue, whereas Facebook recorded over $9.3 billion.
By creating something that can draw people in even when they have nothing to share, Snap could become truly useful in its users' lives, and thereby carve out a market niche. For example, someone could be browsing Snapchat to see what their friends are up to, or find out what's going on around their city, and then tap into a location and discover how much fun visitors had there the night before, and decide to head over there ASAP. In the future, Snap could monetize this use-case by adding paid locations to its maps, or perhaps work out deals where it makes money through referrals to restaurants, bars, and venues getting business through the app.
Meanwhile, users will be able to see where their friends are actually enjoying themselves, as opposed to the more curated and sterile experiences one might find on Instagram or Facebook. How much does it mean that a friend 👍 a place on Facebook, versus sharing a good night out that they might not want parents and coworkers to see on Snapchat?
It's not yet clear whether Context Cards will prove to be a useful, game-changing function rather than a nice-to-have feature for Snapchat users. Facebook has in the past made significant attempts to become a destination for people to get business information and recommendations, but it hasn't unseated Google, or even Yelp or Foursquare.
Snap said in a release that the tool will soon be available in the US, Canada, the UK, Australia, and New Zealand, and that, down the line, it'll be adding more card information.