The cozy cartel behind potash, a vital ingredient in fertilizer, has self-destructed after a key Russian member went rogue. Now producers are scrambling to adapt to a world where major buyers like China will set the price.
The remains of prehistoric oceans compressed into a salty mineral, potash is found deep underground in just a few places around the world, making its extraction an expensive proposition.
Two-thirds of the potash trade has been controlled by two major marketing groups who worked to keep prices high: A North American coalition including US firms Mosaic and Agrium and Canada's Potash Corporation of Saskatchewan; and a European group that included Russia's Uralkali and Belarussia's Belaruskali.
But then Uralkali—which controls a fifth of worldwide production—pulled out of the European cartel, promising that prices will drop 25%, to $300 a ton. Investors certainly take a dim view of how the proceedings will effect major potash producers: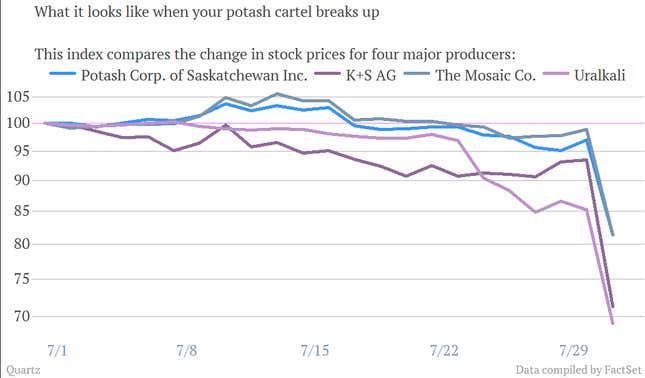 In the last decade, potash prices have risen considerably thanks to increasing demand for better food in populous emerging markets like China, India and Brazil, and the price-setting efforts of the companies who controlled the market. But over-capacity and farmers' willingness to find other methods to fertilize their crops helped reduce prices, along with determined negotiations by the Chinese government.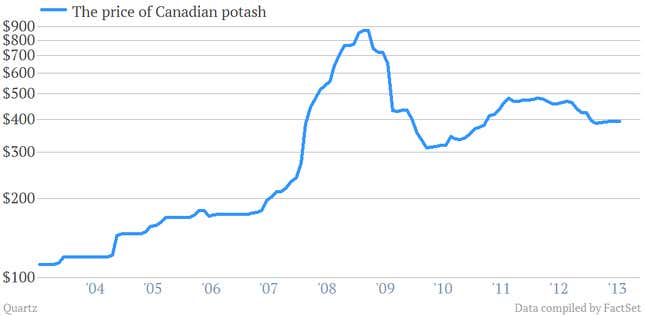 The status quo has been "demolished," and the situation is being compared to OPEC's break-up. But the pressures on the markets likely made the cartel's end inevitable. Read between the lines of this month-old industry analysis and you'll get an idea: Even as new mines were being opened, Uralkali CEO Vladislav Baumgartner was fretting over whether his fellow producers will hold the price line in the face of China's tough negotiating:  "It depends on whether the competition is ready to decrease the price or wait with us for a more favorable market and at least a roll over price or even a better price."
Now, it looks like  Baumgarnter's company ran out of patience. When Uralkali pulled out of the marketing group today, it accused  partner Belaruskali of cutting side deals. But the first order of business at Uralkali's new trading group was picking up an option to deliver orders of potash to, you guessed it, China.
Besides affecting existing producers, the cartel's shake-up and expected drop in price could halt several large potash projects around the world: BHP Billiton's Canadian claim; Sirius' plan to dig in York, England;  and Argentina's hopes to find a new company to exploit its own potash deposits.