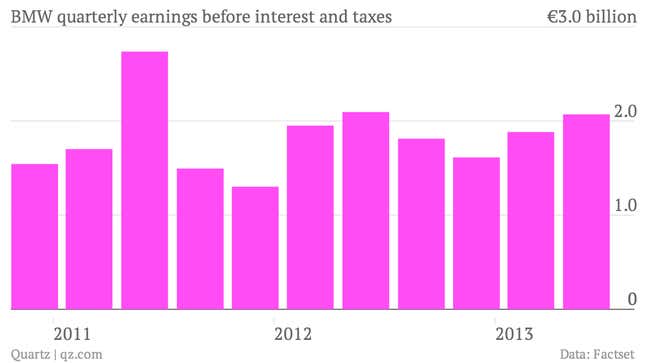 The numbers: The world's largest luxury car maker, BMW, reported €1.76 billion ($2.3 billion) in second-quarter earnings for its automotive sector before interest and tax, a a 13% drop. Total earnings before interest and taxes were €2.07 billion, down 8.8% from the same quarter a year ago. Shares were down almost 1.5%
The takeaway: BMW is spending more than it is making right now. The company is investing in production and new models to keep its edge over Audi and Mercedes-Benz; Volkswagen and Daimler have both pledged to surpass BMW in sales by the end of the decade. BMW spent €2.4 billion upgrading factories in the first half of the year. And the German carmaker just launched its first electric car for mass production, the i3. It will soon unveil the new 4-series coupe as well as upgrades to its sports utility vehicle, the X5.
What's interesting: Competition between the carmakers is fierce especially in China where Audi commands about 30% of luxury car market, compared to BMW's 24%. (Mercedes has also been stepping up its investments in the country.) But BMW may be hitting roadblocks in China. Yesterday, China's environment ministry, in an unusual move, blocked BMW's application to double production at a factory it operates in the country through a joint venture, saying it had failed to meet government requirements for protecting the environment.