The maker of LaCroix Sparkling Water— a US millennial cult-favorite—has seen its shares fall by 23% since their peak on Sept. 11, according to Bloomberg.
So is the seltzer bubble about to pop? Nick Caporella, National Beverage Corp.'s 81-year-old CEO, sure doesn't think so, and let the world know it in a star-spangled, all-caps "news" release put out yesterday titled "FIZZ GROWS STRONGER!!" (FIZZ is National Beverage Corp.'s stock ticker.)
Caporella went on the offensive with a statement that, much like his company's flagship product, seems to break every corporate-design rule in the book:
FIZZ revenues have grown 60% over the last ten years," Caporella declared, "ALL ORGANIC GROWTH – NO ACQUISITIONS! Organic growth has now ACCELERATED! ….First quarter 2018 – BEST EVER! Second quarter growth – STEADFAST!
"No TYPICAL beverage company is delivering the fundamental financial performance of FIZZ!" he added, without providing any specific sales numbers or financial data.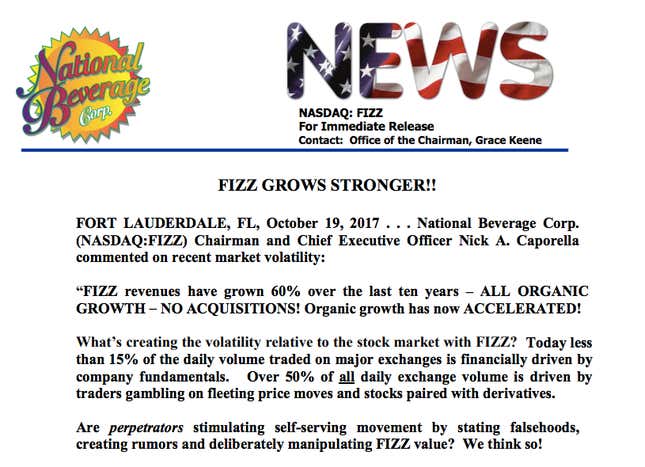 Caporella blamed analysts for encouraging short-sellers—who bet on a fall in the stock price—calling them "perpetrators stimulating self-serving movement by stating falsehoods, creating rumors and deliberately manipulating FIZZ value."
"If you have the opinion that I, Nick A. Caporella, am angrily exercised while extremely fortunate to be guiding FIZZ, your opinion is quite accurate!" added the CEO, who we imagine crushes a passionfruit LaCroix while he fires off cap-locked screeds to investors.
But the drop in share price isn't unexpected; financial experts questioned whether the company was overvalued earlier this month, analysts have cautioned against the "flat-to-declining performance of the company's other brands."
Caporella also owns almost 74% of shares, according to Bloomberg data, so there is only a relatively small number available to short.
Some analysts think National Beverage could soon be the target of a bidding war between Coca-Cola, Pepsi, and other beverage giants, especially since LaCroix may soon land on shelves at Walmart and convenience stores.
We may clear out those shelves before you have a chance to get there.