US Secretary of State Rex Tillerson visited Afghanistan Monday (Oct. 23), and met with Afghan president Ashraf Ghani at Bagram Airfield, the US base about 35 miles outside Kabul. While his appearance was unannounced, the meeting itself appeared relatively standard, with Tillerson reaffirming US support and outlining the administration's overall stance on stability in the region.
Why then, after the meeting did the Afghan government release a doctored image of the meeting between Tillerson and Ghani?
The State Department image on Twitter features a digital clock and a red fire alarm. The clock is showing "Zulu Time," or Coordinated Universal Time (UTC) in military parlance, The New York Times reports. The photo released by Ghani's office is missing both the clock and the fire alarm.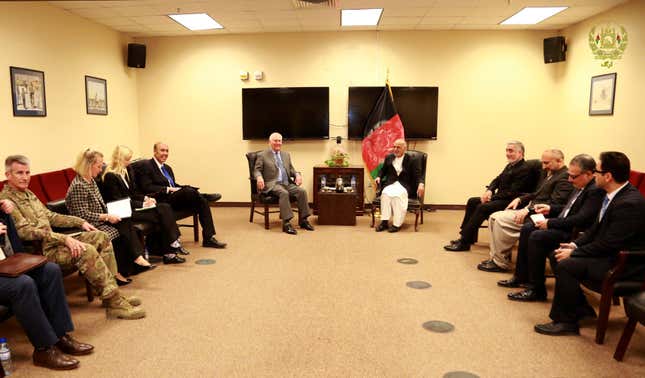 Hani Farid, a professor at Dartmouth and an expert on faked and doctored images, told the Times, "There is no question that the photo has been manipulated."
Why bother with a small change to a photo from a short meeting?
The Times notes that the removal of the clock and fire alarm, two recognizable details from a military base, made it less apparent in the Afghan telling of the story that the president was visiting a heavily secured US military installation and not meeting Tillerson in his capital, Kabul, as the US initially announced. (The press release from Ghani's office, titled "President Ghani Receives U.S. Secretary Of State" makes no mention of the location at all.)
For the Afghan government, it might have been a quick way to save face, the Times said: "many Afghans may see the altered photo of Mr. Tillerson's visit as evidence of a government effort to twist facts to package a positive narrative…On at least one occasion, when the Taliban have overrun the center of a district, the government has relocated the local administration compound to another area so it can say 'no, the district has not fallen.'"