As village after village of Rohingya flee violence in their native Myanmar, the authorities in Bangladesh are trying to figure out how to accommodate the influx of hundreds of thousands of refugees. With camps in border regions encroaching on established municipalities Bangladeshi policymakers have discussed setting up a camp on a remote island in the Bay of Bengal called Thengar Char. Not only is the habitability of such an island is disputed by the international community but the island's precise location is too. Officials, maps, and researchers do not agree on which landmass is actually Thengar Char.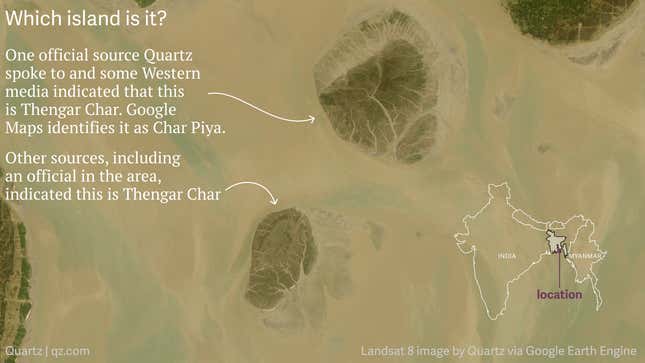 What do we know, generally?
The islands are quite young—the one on the left, identified by several different sources as Thengar Char, only breached the surface a little over a decade ago—and they have rapidly changed shape and size. The islands appear to be completely submerged at times.
Many online maps don't have satellite imagery current enough to show both islands, or use algorithms that composite imagery in such a way that leave the islands disfigured or blurred.

The map view of online mapping providers show the area as primarily open water.
Senior officials of Noakhali, the administrative district where these islands are, said an island known as "Jalier Char" and the adjacent island of Char Piya have been renamed Vasan Char. While they didn't clarify which those islands are on a map, one of the officials explained that Char Piya and Thengar Char are not the same, and that Thengar Char is a short distance west of Char Piya.
What do we know about the larger island?
Reuters has reported extensively on the Rohingya crisis.  Its maps identify the larger island as Thengar Char, while Google Maps labels the larger island as Char Piya.
Mir Shariful Islam, a lecturer in the department of oceanography at the University of Dhaka, told Quartz that this island known as Char Piya.
A source in Bangladesh's Navy provided coordinates that pointed to the larger island when asked for the location of Thengar Char by Quartz. He added the island at that location is now called "Vashan Char."
This year, an area on the the southwest shore of the island has shown signs of human activity.
High resolution satellite imagery from DigitalGlobe captured what appears to be helipad and other structures.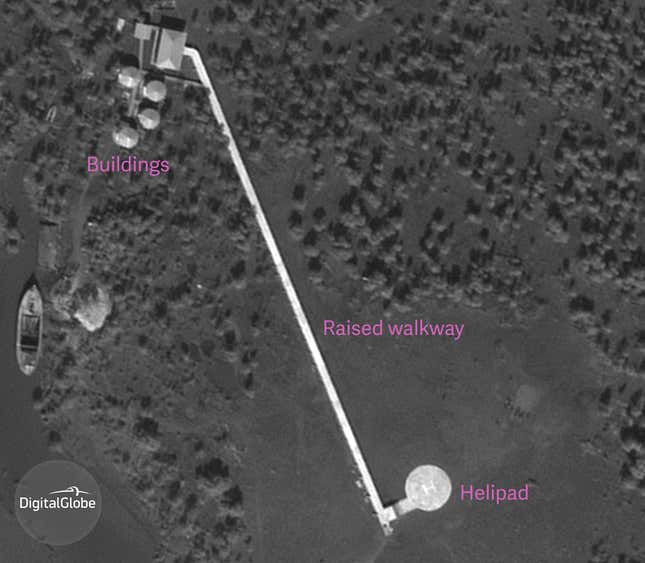 What do we know about the smaller island?
Reuters has described the island as having "emerged from the sea around 11 years ago." That would more closely describe the smaller island.
A report by bdnews24.com a local English-language publication identifies the smaller island with a map credited to the Noakhali district administration. Professor Islam, of Dhaka University, also told Quartz that this island known as Thengar Char.
Geomorphologist Maminul Haque Sarker, of Dhaka's Center for Environmental and Geographic Information Services, identified the smaller island as Thengar Char, and told Quartz that Char Piya is an older island to the north-north-west. He said that it's very confusing for people to identify them because the islands are so new and are not on any official records. Only local people know which island is which, he says.