Office plants get no love. It's a sorry fact that German photographer Frederik Busch has had to contend with twice.
First, Busch spent the last eight years taking photographs of wilting succulents, lonely cacti, and forgotten potted vines in various office environments. He laments how plants, which are brought in to "to bring a little 'life' between the stacks of files and the computer screens," are often overlooked in busy offices and treated like any other negligible office decor.
"These plants are the weakest of the weakest in business life" he writes on his website. "They cannot walk away, they cannot take a break, they cannot quit their job, they just have to do or die."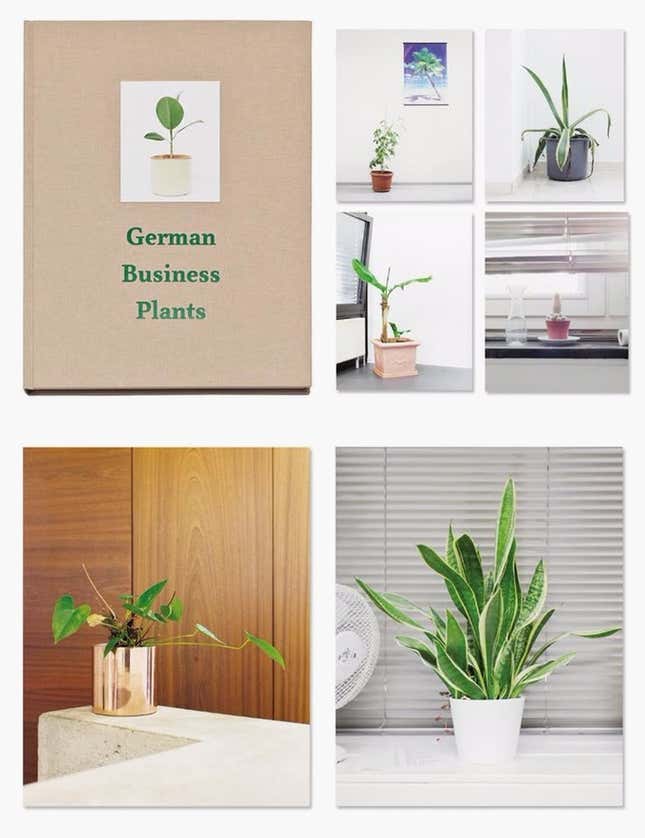 In Busch's minimalist compositions and stark, even lighting, the plants look tragic and comedic at the same time. To vivify the interior life of these peripheral office props, the Hamburg-based photographer gave each plant a name and unique personalities, and the "plant portraits" are captioned with wry observations: "Ingrid isn't giving up" describes a droopy aloe vera on a window sill. "This is Renee, and Renee is keeping a secret," refers to a slender indoor cactus that's conceivably been a silent witness to top secret company meetings. And "Ute suffers from daydreaming" is the caption to a parched dragon tree appearing to ponder an escape from its banal captivity.
Busch again learned how ambivalent people are to "office botany," when he failed to raise enough money to fund the printing of German Business Plants, a coffee-table book. His Kickstarter campaign ended earlier this month, scraping a little over 50% of his €25,000 ($30,000) goal. Among the Kickstarter rewards were interesting pre-packaged kits for companies: For €900, Busch offered to visit offices and take portraits of neglected plants. And for €7,000 he offered to hold an art exhibition featuring heroic portraits of a company's potted characters.
But Busch, who is a lecturer at the Academy of Fine Arts in Nuremberg in Bavaria, says he's not ready to give up just yet. "I am currently developing Plan B, [and] talking to a few people who are thinking about helping me financing the book with [the publisher] Kehrer," writes Busch on Kickstarter. "With a little luck, there will be a book in the near future. I will keep you posted."
Anyone interested in supporting Busch's crusade can help by buying fine art prints from his website.