On Thursday (Oct. 26) National Archives and Records Administration released thousands of previously fully or partially classified documents pertaining to the assassination of John F. Kennedy on Nov. 22, 1963. Most researchers believe the files will reveal little groundbreaking information about the president's shooting death in Dallas, but perhaps there will be fresh minor insights into how the FBI, CIA and the Warren Commission investigated it.
One tidbit among them—the US wanted Castro dead, but priced his assassination at pocket change.
A document drafted in 1975, simply titled "Castro," recounts the US government's debate in the early 1960s over how to overthrow Castro's regime in Cuba. Among the options considered—along with military intervention, or eliciting assistance from "gangster elements"—was a scheme called Operation Bounty.
The plan entailed dropping leaflets across Cuba by plane, to be read by Cuban citizens. The leaflets would list bounties for killing members of the Castro bureaucracy. Rewards would range between "from two cents and $1 million"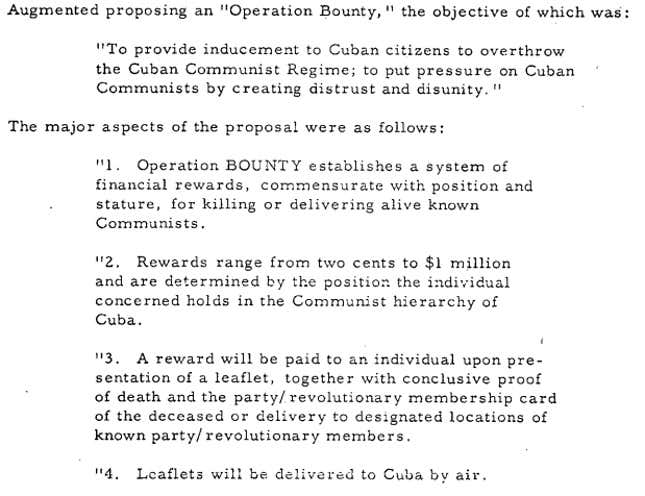 Two cents (now $0.16) would seem like an unusually low fee for the US to pay a Cuban in order to assassinate a top Communist revolutionary and thorn in America's side. Yet the operation set the paltry bounty on one person only—Castro himself. The government mulled paying between $5,000 and $20,000 ($40,864 and $163,456 in present-day dollars) for killing an "informant," and between $55,000 and $100,000 ($449,504 and $817,281) for a "government official."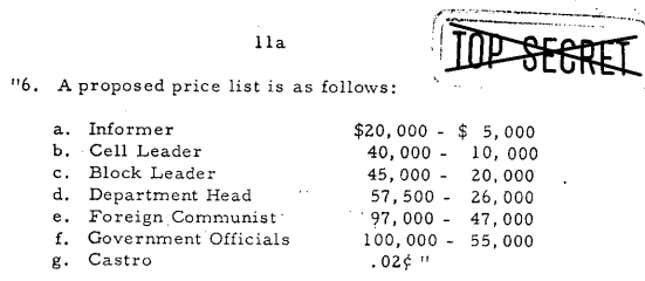 According to a Senate report drafted in 1975, and recently posted online separately from Thursday's JFK files, the two-cent bounty was meant to "denigrate" (.pdf, pg 144) Castro.
These and a number of other plans were never carried out, and Castro died more than four decades later at the age of 90 in November last year.
It's now generally accepted that during the first probe into Kennedy's death, in which the Warren Commission concluded that Lee Harvey Oswald shot and killed Kennedy by himself from the sixth floor of a building, the FBI and CIA intentionally covered up evidence about their surveillance of Oswald, a Marxist sympathizer, and a trip he took to Mexico to meet with Cuban diplomats before his death. Their decision likely stemmed from a desire to keep the government's plans to assassinate Castro secret.