It's becoming increasingly difficult for North Korea to make money from exports as sanctions bite down, hard. From coal briquettes to minerals, even fishery products, a majority of its most prolific exports are capped.
But one thing got left out from the raft of sanctions—its fine art. And China is its major buyer.
In the Chinese border town of Dandong, galleries are showcasing paintings from North Korean artists and the dealers are selling them to private collectors and to businesses that hang them on public display, such as in hotels and restaurants.
As the market heats up, art enthusiasts can't get enough of the paintings that usually feature tigers, workers, landscapes, and beautiful North Korean women. But it's not just the art itself that is drawing in buyers—original artworks are accessible and affordable. Paintings from note-less artists are priced around only a few hundred US dollars.
"North Korean painters are not fully acknowledged," said Rishu Li, the owner of North Korea's Pyongyang Art Gallery. "That's why their paintings do not have the same price tags as those from Europe."
North Korean paintings started to pop up in the Chinese market as early as 2004, and at that time the highest price was only around $300. But since then, Chinese collectors have viewed the artwork to be niche and lucrative, and subsequently prices have increased tenfold, and some hundredfold. Today, some pieces sell for as much as $100,000.
The high-end collectables are usually created by the "People's Artists," which is a small group of artists who are designated as the best in the country by the North Korean government. But many of the artworks come from the Mansudae Art Studio in Pyongyang, one of the largest art production entities in the world.
Mansudae is run by the North Korean government and it employs about 4,000 people—only around a quarter of them are artists. It's the only institution that can portray North Korea's ruling family and it also produces propaganda posters, ceramics, embroidery, and some giant Socialist Realism statues. Its official overseas gallery "Mansudae Art Museum" is in Beijing's art district 798 Art Zone and has been holding exhibitions since 2009.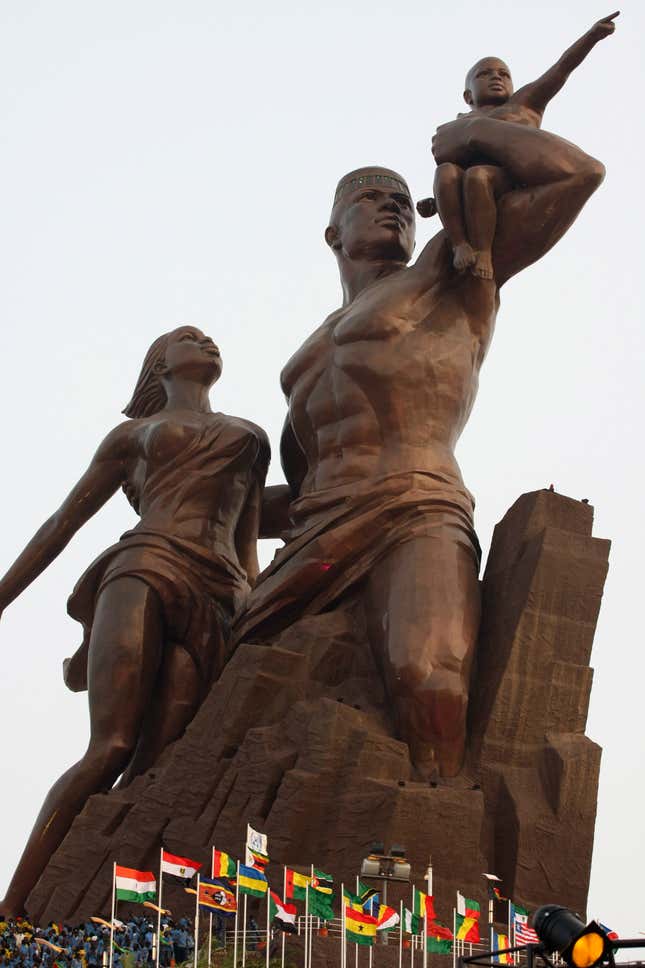 Apart from selling paintings, Mansudae's overseas project also commissions artists to do work in other countries. They have built monuments and sculptures for at least 15 African countries, and also for other places in the Middle East and Southeast Asia.
Namibia paid $60 million for North Korean sculptors to build the Hero's Acre, an official war memorial covering 732-acres on a hill in the capital city, Windhoek. Senegal paid more than $20 million for a 49-meter tall bronze statue called the African Renaissance Monument. And the Angkor Panorama museum in Cambodia, opened in December in 2015, is reported to have cost $24 million. 
But the role of Mansudae and other art studios in North Korea have become increasingly more controversial. Sanctions against North Korea were designed to economically punish the country for its bomb tests amongst other things.
In 2016, the UN banned North Korea's sculpture business, and after that, it froze North Korea's global assets and issued a travel ban this August, preventing it from doing any foreign business.
But its paintings are exempt from the sanctions, and are bringing in tens of millions of dollars into the country, said an unnamed UN Security Council diplomat to Reuters.
"Now more than ever we need avenues like art to create understanding between North Korea and the rest of the world," said Zhengtai Ji, the head of Mansudae's gallery in Beijing.