Donald Trump took to Twitter on Oct. 29 calling the investigation into Russian meddling in the US election a "witch hunt," a familiar refrain in recent months. "DO SOMETHING," the US president wrote in all capitals during his Twitter missive. It was not clear who he wanted to act, or what he wanted them to do.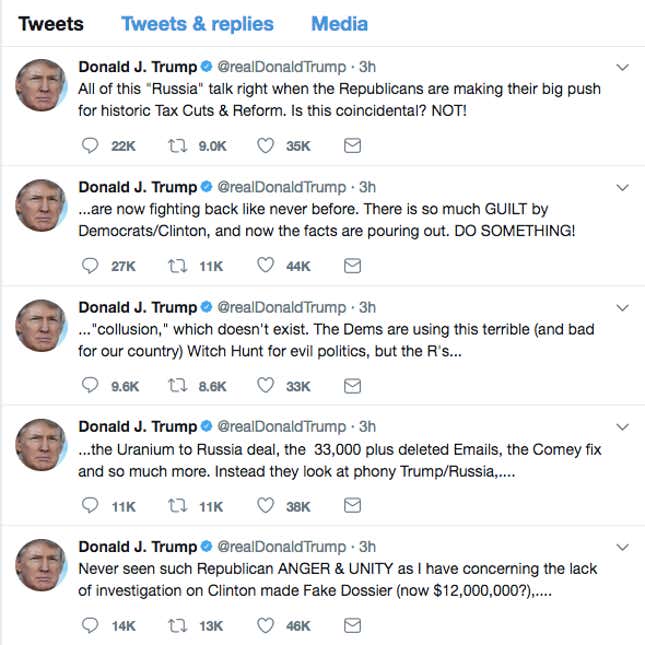 Sunday's outburst comes as a federal court is expected to unseal charges Monday against individuals in the case, and with that usher in the first arrests. In the past, President Trump has called the investigation into Russian meddling and potential ties to his campaign "fake news" and a "total fabrication."
However, Russia's efforts to influence the US election have been repeatedly, unequivocally confirmed on the record by all top US intelligence officials, including those appointed by Trump.
A report (pdf) issued by US intelligence officials on Jan. 6 stated Russian President Vladimir Putin was behind a campaign to influence the 2016 election, "denigrate Secretary Clinton, and harm her electability and potential presidency," and stated that Putin had "a clear preference for President-elect Trump."
During a public Senate Intelligence Committee hearing (pdf) this May, Virginia's Mark Warner asked top intelligence officials if they agreed with the conclusions of this report that "Russian intelligence agencies were responsible for the hacking and leaking of information and using misinformation to influence our elections?"
Every intelligence official answered yes. Intelligence officials at the hearing included representatives from the Federal Bureau of Investigation and the National Security Agency, as well as Trump-appointed CIA director Mike Pompeo and Trump's chosen director of national intelligence, Dan Coats. (See 42:30 mark on the video below, or at the 1:04 mark on the video on the Senate website).
Despite this public testimony, the US president's viewpoint has often been repeated by Fox News and other right-wing news outlets. Most have chosen not to cover news about the investigations as it appears, as well as pushed discredited conspiracy theories about former presidential candidate Hillary Clinton's alleged ties to Russia. Expect Monday's arrests may be covered the same way.