It has been 40 years since Suspiria, an Italian technicolor slasher about a vexed ballerina, changed how horror movies would be made.
Directed and co-written by the legendary "Visconti of Violence" Dario Argento, the 1977 film's lush visual style, progressive rock sound design, and shocking perversion of innocence gave future filmmakers a template for how to craft a scary movie. Film scholars call Suspiria, (which means "sighs" in Latin) the "mother of all horror films."
Anthony Bourdain is a fan. The chef and TV personality explained Suspiria's genius at an event this week:
Both the sound and the visuals of this film are unlike anything that's ever been seen before in any horror film, and maybe even all films. It is visually and stylistically a masterpiece that rewrote the language for suspense and horror and influenced everyone who came after.
It's a classic giallo [a genre of Italian thriller-horror movies]. John Carpenter would not exist… Guillermo del Toro…everybody has lifted scenes directly from it.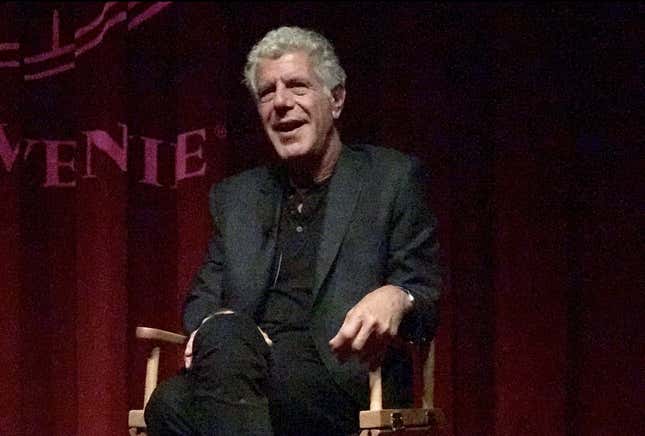 Argento's opus was on the marquee at the Roxy Theater in New York City on Monday, where Bourdain launched the third season of his engrossing web series, Raw Craft by The Balvenie.
Bourdain, an unabashed lover of slasher flicks, added this capsule review of Suspiria: "Very stabby, but it's great." Bourdain also alluded to the fact that he is dating Argento's daughter, the actor and director Asia Argento. "I can't help it, I have a personal interest here," he joked.
Suspiria is the latest victim of Hollywood's frenzy of reboots, with a new version of the movie starring Tilda Swinton and Dakota Jackson currently in production. The idea of recreating the classic has irked Argento, who was surprised to learn of the new version.
"Either you do it exactly the same way—in which case, it's not a remake, it's a copy, which is pointless—or, you change things and make another movie," he lamented to IndieWire last year. "In that case, why call it "Suspiria"?