Donald Trump is trying to put a good face on it all.
The White House has released long-awaited official portraits of the president and vice president Mike Pence, and the unusually cheery photos seem perfectly timed to counterbalance recent bad news, like the indictment of former Trump campaign advisors Paul Manafort, Rick Gates and George Papadopoulos.
Trump and Pence's pictures couldn't be more different aesthetically. Trump's portrait, photographed by White House photographer Shealah Craighead, almost looks like it was cropped from an already existing picture. There's a random frame in the background and the light is uneven, as if Craighead caught him in the middle of a hallway.
Strangely, the president is also beaming in the picture, a look he deploys during his infamous grip and grin photo-ops, but not in formal portraits, as other photographers have noted. Trump's only other official portrait features a clearly dour expression.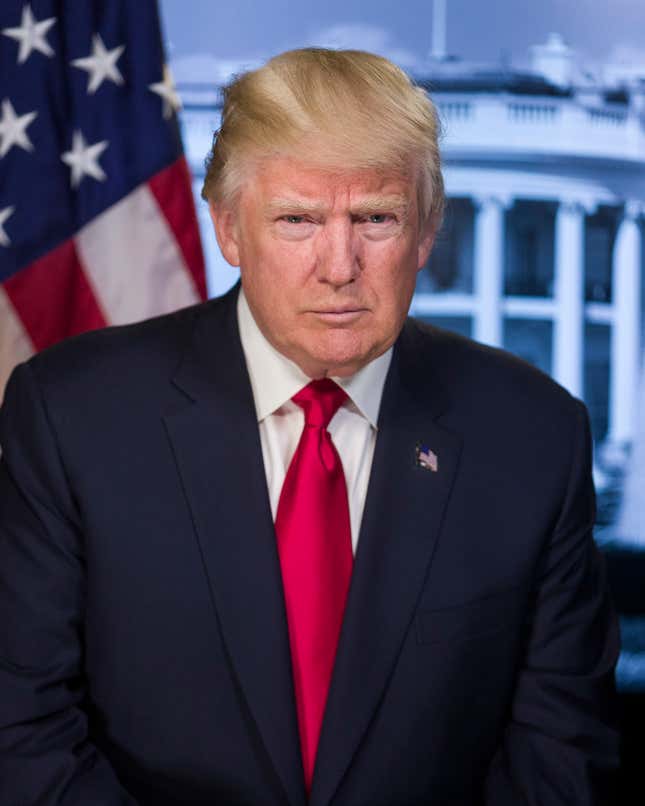 Pence's portrait on the other hand, embodies the control and composure that traditionally characterize formal portraits. Shot by the vice president's photographer Myles Cullen, the light is even and emanates from a specifically positioned light set-up. The background is clearer and altogether lends Pence a commanding presence.
Trump's is a lesser picture. But it does an arguably more important job. As he fumes on Twitter, begging Congress to reexamine Hillary Clinton or focus on tax reform proposals, the newly-released portrait offers a reassuring countervision of a president at peace with the world.