Joseph Mifsud is an enigma. The Maltese academic has admitted to The Daily Telegraph (paywall) that he is the mysterious professor at the center of Trump campaign advisor George Papadopoulos's attempts to arrange a meeting between Donald Trump and Russian president Vladimir Putin. But he insists he has a "clear conscience" and fervently denies Papdopolous's claim that he knew the "Russians had obtained 'dirt' on then-candidate Clinton."
Mifsud has told the Washington Post (paywall) that he'd had "absolutely no contact with the Russian government," and reiterated to the Daily Beast that, "I do not know anybody from the Russian government…I am an academic."
That's not quite true. Mifsud has had contact with multiple Russian officials, as Mother Jones has reported. He met the Russian ambassador to the UK, greeted a counsellor from the Russian embassy, invited a former Russian senator to his academy, and was listed (pdf, p.9) at a conference as having advised the Russian government on "international education issues."
The idea that he could have tried to facilitate contacts with Russian officials is "not at all" far-fetched, says a former employee at the London Centre of International Law Practice (LCILP), where Mifsud held a senior role. "Everyone he's dealt with is foreign ambassador of this country or that country."
The London Centre of International Law Practice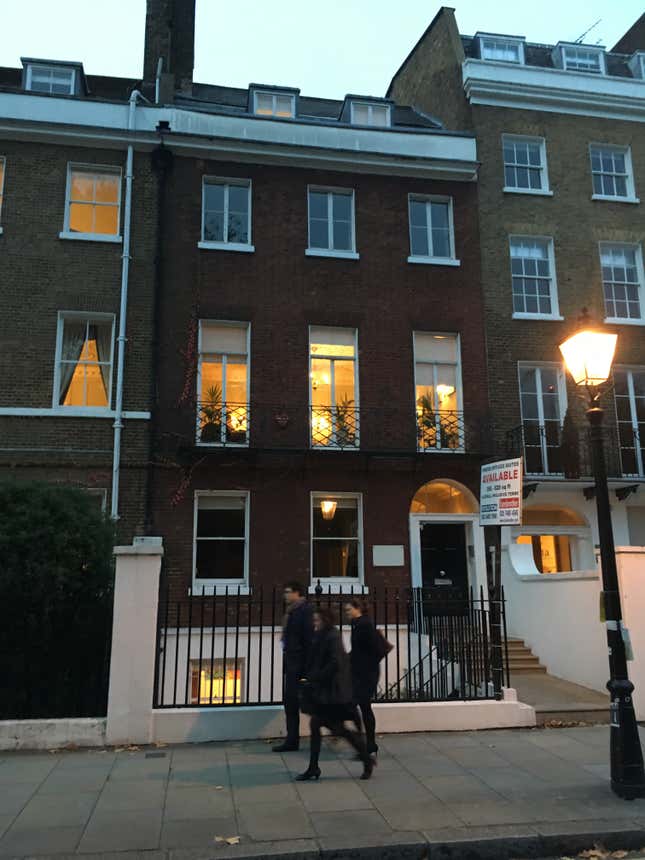 The LCILP is a curious law firm. The same former employee told Quartz that "there was a lot of secrecy going on about what they do." After several months there, the person said, "I hardly knew what kind of business they do."
The source described the firm, which was founded in 2014, as constantly in search of, and seemingly never obtaining, big contracts. Mifsud's role at LCILP was to bring in potential clients—ideally governments whom the company could advise on international law, the former employee said.
George Papadopoulos also spent three months at the company, before joining the Trump campaign. It's not clear whether he and Mifsud connected through the firm. Papadopoulos and LCILP director Nagi Idris are friends on Facebook. Idris is a British national, originally from Sudan, and has been director of 18 companies at various times since 2001, according to Companies House filings.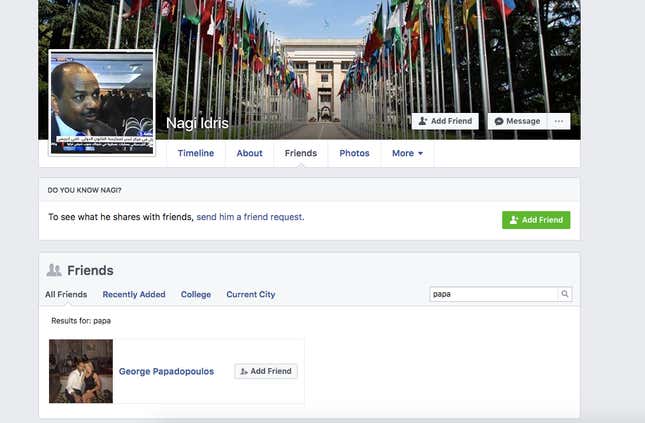 LCILP didn't respond to multiple phone and email requests for comment on this story. When a Quartz reporter visited LCILP's headquarters inside a handsome Georgian building, he found that the office amounted to four people working in an undecorated backroom, all of whom declined to comment.
LCILP has paid rent in a series of highly prestigious locations in London's legal district, despite ending 2016 with debts of £329,000 (pdf, p.4)—a considerable sum for a company with just a handful of employees.
Shortly after rumors about Mifsud's connection to Russia and the Trump campaign began swirling on Oct. 30, his profile was removed from the website, along with those of all other members of staff. (They are still available in a cached format.) Mifsud's profile lists an impressive number of geographical areas of expertise as Europe, USA, the Middle East, Africa, and Asia.
The external advisor, who was peripherally involved with the company, described the firm as "a good bunch of people." Courtney Barklem, a human rights lawyer who had planned to do pro bono work for the firm but never found time, described them as "great."
The London Academy of Diplomacy
Mifsud's wide-ranging career (pdf) also includes a stint at Malta's Ministry of Foreign Affairs, presidency of the Euro-Mediterranean University, and directorship of the little-known London Academy of Diplomacy.
His role at the London Academy of Diplomacy is also unclear—as is the Academy itself (paywall). The Academy seems to have, at various points, been associated with the University of East Anglia, Loughborough University, and Stirling University (where, a spokesman confirmed, Mifsud has been a professorial teaching fellow since May).
Mifsud has been listed as both a director and honorary director of the institution. When Quartz phoned Loughborough University London to ask whether Mifsud was employed at its Academy of Diplomacy and International Governance, it was told there was no record of him in the university's files.
In a 2014 conversation at the Valdai Club, a Russian think tank with close ties to the government at which Putin speaks every year, Mifsud foreshadowed a Trumpian sentiment, suggesting that the US would soon tire of its role as global policeman. "I don't think that the US has the energy to continue with this. So the global security and economy needs partners and who is better in this than the Russian Federation," he reportedly said, at a time when the Ukraine war was raging.
The following year, he observed Kazakhstan's presidential election and said (link in Russian) that the election "actively corresponded to all norms." President Nursultan Nazarbayev, who has ruled the country since the fall of the Soviet Union, won almost 98% of the vote. In contrast, the Organization for Security and Cooperation in Europe described Kazakhstan's election (pdf, p.1) as having "limited voter choice," "stifled public debate" due to a "restricted media environment," and "serious procedural deficiencies and irregularities."