Update (11:25pm US ET): The suspect has been identified by law-enforcement sources as Sayfullo Saipov, 29.
In what officials are calling "an act of terror," a man drove a Home Depot rental truck onto a bike path for more than a mile in lower Manhattan this afternoon (Oct. 31), killing at least eight people and injuring at least 11.
A law-enforcement official told the New York Times that the suspect "jumped out of the truck with a pellet gun, yelled, 'Allahu Akbar,'" which means "God is great" in Arabic. The driver, who brandished what turned out to be fake guns, was hit by police gunfire and taken into custody. A paintball gun and a pellet gun were recovered at the scene, said New York police commissioner James O'Neill.
How the attack started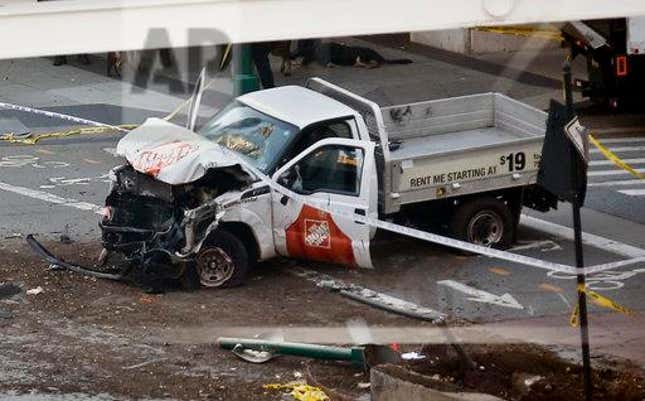 Mayor Bill de Blasio described the incident, which unfolded just blocks from the World Trade Center site where more than 2,700 people were killed in the terror attacks of Sept. 11, 2001, as "a particularly cowardly act of terror aimed at innocent civilians, aimed at people going about their lives who had no idea what was about to hit them."
"We know that this action was intended to break our spirit," de Blasio told reporters. "But we also know New Yorkers are strong, New Yorkers are resilient, and our spirit will never be moved by an act meant to intimidate us."
According to the NYPD, the driver entered the bike path around 3 pm. The vehicle struck multiple people on the path, then continued south, striking another vehicle. The suspect exited the vehicle "displaying imitation firearms."
Who is the suspect?
The suspect, who was carrying a Florida ID, is a 29-year-old male, authorities said. Multiple news organizations, including the Associated Press, cited law-enforcement sources who identified him as Sayfullo Saipov. NBC News reported that Saipov is an Uzbek immigrant who came to the US in 2010.
According to a Buzzfeed reporter, Saipov had been working as an Uber driver, and the company has put out a statement saying it is in touch with law enforcement.
What do we know about the victims?
According to the Guardian, five friends from Argentina were among those killed. The New York Times said they were in New York for a 30-year high school reunion. A Belgian woman was also among the dead, the Guardian said.
A grim reminder of past terror
The attack was reminiscent of the July, 2016 incident in which 84 people were killed by a man who plowed through seaside crowds in Nice, France.