Black Friday used to be one day. Now, you can barely stow your Halloween costume before major retailers begin launching deals to kick off the holiday season.
Of course, there's a reason for this. Black Friday—and the rest of the holiday shopping season—consistently rakes in more revenue for retailers than any other time of the year. For 2017, Adobe predicts online sales in November and December will hit $107.4 billion, a 13.8% increase over the same period in 2016.
At what point did retailers, especially online, start embracing this two-month shopping extravaganza? A look through Amazon's Black Friday press releases shows exactly when American consumerism got out of hand.
Holiday shopping season duration
Amazon has been kicking off its holiday shopping season in November since 2011, but it wasn't until fateful 2013 that the company stopped breaking up Black Friday, Cyber Monday, and Christmas into separate buying periods. The result: one tortuously long stretch of spending lasting from Nov. 1 to Dec. 22.
"This season, Amazon is offering more deals than ever before," the 2013 press release stated, including "for the first time ever, two Deals of the Day every day, now through Dec. 22."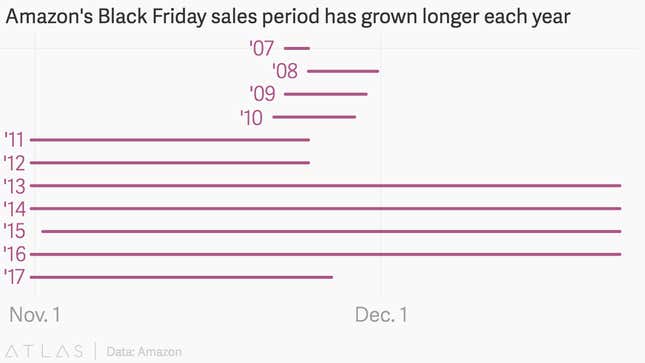 Superlatives
Amazon didn't just extend the season's length over time—the company's language to describe that holiday shopping period has also grown more grandiose. Before 2007, Amazon didn't even observe Black Friday. That year, the reference creeped in with the introduction of the Black Friday Deals page—a destination for finding "thousands of products at reduced prices." Ten years later, Amazon now offers "better deals than ever before" and "free shipping on over 100 million products."
Deals, Deals, Deals
Amazon's emphasis on the quality and quantity of their sales has also followed a steady uptick over the years. In 2007, the only two "deals" mentions were references to the Black Friday Deals page. The 2017 press release, by contrast, is riddled with the word: 20 mentions, including "better deals than ever before," "thousands of holiday deals," "deals on everything," and "discover great deals."
The "Amazon Effect"
When the biggest online retailer starts the races, everyone else follows suit. Amazon's aggressive Black Friday strategy has pushed other companies to start earlier and end later each year. "Amazon has found all sorts of ways to pull consumers into its world," Wired reported in 2015, "something that could make a huge impact this Black Friday holiday."