When DNAinfo and Gothamist ceased operations today (Nov. 2), they did so in dramatic fashion, instantly blocking access to thousands of news articles. But the archive still exists and is expected to return to the web, according to people who worked for the sites.
The websites, which covered local news in major cities around the world, are currently redirecting visitors to a farewell letter from owner Joe Ricketts, who founded DNAinfo in 2009. That rendered all of the articles on those sites inaccessible and set off alarm bells among journalists and civic activists.
Ricketts, who made his fortune founding the American brokerage TD Ameritrade, was accused of retaliating against journalists at DNAinfo and Gothamist for deciding to unionize last month. DNAinfo didn't answer phone calls seeking comment.
But the sites's director of engineering, Phil Avery, told Quartz that the site is backed up daily. An official for the website told the New York Times that the now-inaccessible content will be archived online.
Update (Nov. 3, 9:30am ET): Hal Danziger, the company's chief technical officer told Quartz that all DNAinfo and Gothamist stories will be preserved and archived, but "The details are among the issues the company will address in the coming weeks."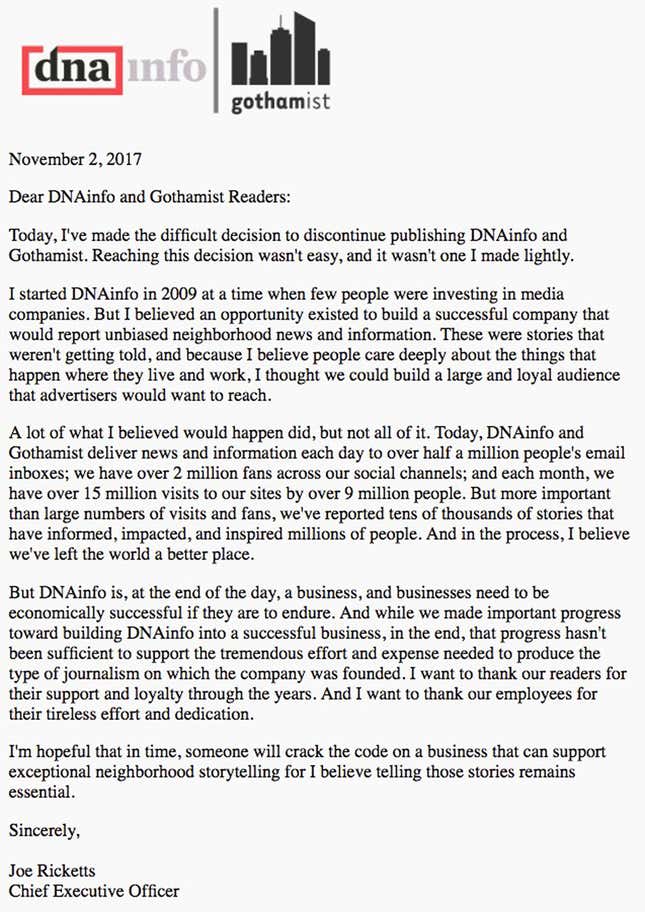 All visitors to the the affected websites are being redirected to the note from Ricketts, no matter what page they try to navigate to. The heavy-handed tactic left every other page on the sites inaccessible and gave the appearance that the sites' stories had been purged from existence.
Update (Nov. 3, 2:20pm ET) The DNAinfo and Gothamist websites are no longer redirecting all visitors to Ricketts's letter. Previously published stories are available again.
Upon hearing the news of the shutdown, the journalism community quickly and sharply expressed its disgust with not only the shuttering of an admired set of publications but also with the handling of the announcement letter. Many assumed that the publications' archives were gone forever.
Some saw the move as a vindictive power play, punishing the laid-off staffers by making it difficult to share past work with potential future employers.
Rickets did not cite his employees' choice to unionize as a reason for shutting down, but a spokesperson told the New York Times in a statement, "The decision by the editorial team to unionize is simply another competitive obstacle making it harder for the business to be financially successful."
Ricketts merged DNAinfo with Gothamist earlier this year. The two media organizations both got their start covering local news in New York City but expanded to other cities in the United States and around the world.