Update: Ashcroft has issued a statement denying ever controlling the trust reported on by the BBC and the Guardian.
Lord Ashcroft, former deputy chairman of Britain's Conservative party and a major party donor, was as tight-lipped as possible when the Guardian and BBC were investigating the Paradise Papers leaks.
When corresponding with Quartz on Twitter this morning—not so much.
The massive trove of leaked files reportedly reveals an offshore trust in which Ashcroft had stored up to hundreds of millions of pounds, and over which his lawyers were allegedly concerned he was still making decisions. A trust is usually used as a tax-advantageous way for a person to cede the management of their money to a third-party.
When the BBC's Panorama asked him for a comment, his spokesperson replied that he wouldn't respond because he believed Panorama had treated him unfairly in the past. A BBC reporter then confronted him at a conference. Ashcroft responded by walking away from the reporter, for more than two minutes, until he eventually found a bathroom all the while muttering "dear, dear, dear." The reporter didn't follow him in.
Quartz wrote a tongue-in-cheek piece about the encounter, and soon received a reply from Ashcroft on Twitter, denying having hidden in the bathroom.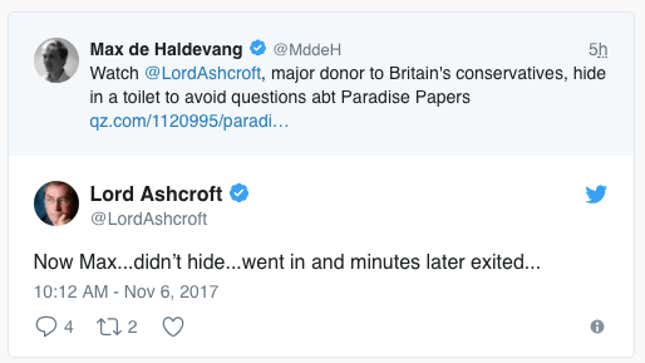 Given his willingness to engage, we repeated the question the BBC reporter had been throwing at Ashcroft. He denied having controlled the fund. (Having done so would potentially open him up to a large tax bill from the British government.)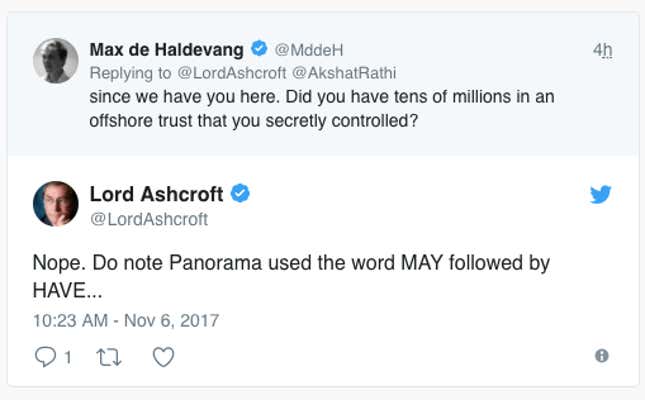 A few hours later, however, both the above tweets had been deleted (the above images are screenshots). Ashcroft's team seemed to have overlooked deleting a follow-up tweet, clarifying his denial.
When the Guardian contacted his spokesman about the allegations, he issued the following reply.
Ashcroft's spokesman, Alan Kilkenny, said the peer had never engaged in tax evasion, abusive tax avoidance or tax avoidance using artificial structures, and "any suggestion or implication that he has will be vigorously challenged".

Kilkenny declined to pass a series of questions from the Guardian to Ashcroft, dismissing them as "scraps of information, which do not amount to evidence, gained from stolen documents. Lord Ashcroft would not read such a communication and there is no point in attempting by other means to communicate with him."