Forget about waste management. The hot new front for dirty money in China is fancy grapes. In its annual report (pdf, link in French), the French government's anti-money laundering unit, known as Tracfin, noted a "growing presence of investors with connections to China."
It's not just Tracfin that's noticing suspicious inflows of Chinese funds.  Jane Anson, a wine correspondent in the Bordeaux region of France, says that Chinese investors now own some 50 vineyards in Bordeaux alone (paywall), reports the South China Morning Post. The Chinese are on track to surpass Belgians as the nationality with the most vineyards in the region. While some of these investments have been high-profile bets on China's love of luxury, sales more generally tend to be "kept very quiet and you don't know who is doing the purchasing," Anson told the SCMP. Those surreptitious inflows hint at the possibility of money laundering. The vineyards receiving the investments aren't shell operations; The influx of new money has been a good thing for region, beleaguered as it has been by the dismal global economy. "What they are doing is generally investing in quality," said Anson.
Buyers from the Chinese mainland have been buying Bordeax vineyards since 2008, snapping up 40 of the region's 7,400 vineyards (link in Chinese) in the last few years alone. The pace of investment has accelerated markedly (link in Chinese), reports Caijing.
As the economy has become increasingly shaky, many economists have noted a trend of money fleeing China, though it's notoriously difficult to calculate with any degree of accuracy. For example, the Wall Street Journal estimated that in the 12 months through September 2012, $225 billion seeped out of China (paywall). Here's a look at the trend: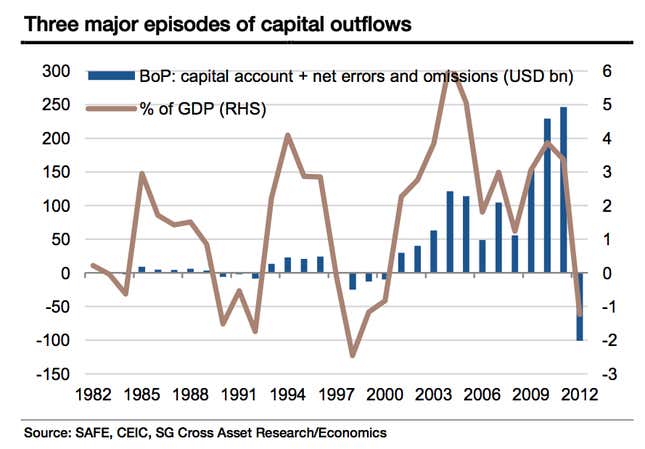 Though hard to track, it's even harder to tell where the money flows. Some of it, apparently, is going into wine bottles.