When Spain's real estate industry collapsed in 2008 and plunged the country into its worst recession since it became a democracy, it dealt a serious blow to an ancient and prized, yet controversial, cultural symbol. Bullfighting has seen its fair share of ups and downs since it emerged in its modern form in the 19th century, but some say it's headed toward a crisis like no other. "There are fewer bullfights, fewer fans in the stands," says Antonio Lorca, the El País newspaper's bullfighting critic. "It hasn't reached a critical level yet, but if nothing changes, it will."
The number of corridas and other spectacles featuring bulls fell by about 40% in five years to 1,997 in 2012, with the bleeding continuing this season. Funding is harder to come by, so countless lower-category bullrings, once echoing with the sound of applause, have gone silent. And attendance is down at even the second most prestigious bullring after Madrid's Las Ventas. The Plaza de la Maestranza, in Seville, has seen ticket sales decrease for five consecutive years, although promoters refuse to say by how much. The almost century-old company Pagès tried to cut its losses this spring by taking five shows out of its programming for the city's annual fair. It is a tell-tale sign of the problems the industry faces, given the importance of the Feria de Abril as a local and regional tourist draw.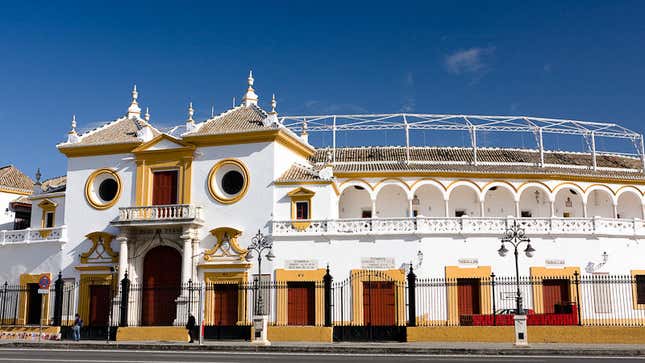 Animal rights advocates have long pointed to surveys indicating that Spaniards, especially young people, are losing interest in bullfighting. It's not clear that disdain for the bloody display is the cause. For one thing, tickets are expensive. They can cost as much as €150 ($200) a piece. With unemployment at a record 26%, it is an unaffordable expense for many aficionados. And secondly, star matador José Tomás, who has been described as the single most exciting bullfighting figure of the decade, reportedly sells out every venue. That, insiders argue, is proof that bullfighting remains popular and isn't just plagued by the recession, but by an internal crisis as well. Antonio Lorca feels that the spectacle now lacks the emotion that once filled seats. And others note that the supply in recent years just far outpaced the demand. "I remember when I started in the business with my father in the late seventies that there were four bullfights a season in Málaga," says bullfighting photographer Agustín Arjona. "That increased to 14 or 15." The number of ranches raising toros bravos grew as well. José María Almodóvar, who manages the career of young matador Oliva Soto, estimates that in the 75 miles or so that separate Seville from the Portuguese border, there are some 40 ranches. "Only three or four have been around for decades," he says. "The rest smell of 'brick money'," adds Almodóvar, meaning they were started by businessmen with cash to spend during the construction boom.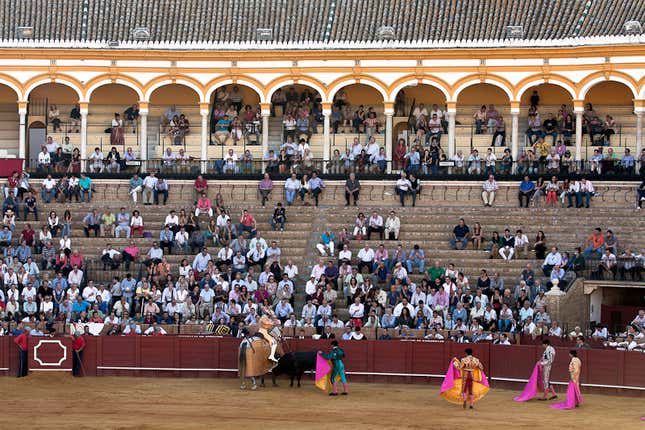 Ironically, while the number of bullfights is down, the number of ranches keeps rising. Owners complain they're forced to sell their bulls at a loss. The number of registered bullfighting professionals has also steadily increased—by 22% over five years. Agustín Arjona says something had to give. "A lot of people believed in the goose that lays the golden eggs. But there weren't enough eggs for everyone."
The impact, in financial terms, is impossible to measure. Spain's Ministry of Education, Culture and Sport admits to not keeping any tabs on the industry, although it is currently working on analyzing the available data from the various players. This data, however, is incomplete due to what Juan Medina says is the oligopolic nature of the sector. Medina, a bullfighting fan and teacher of economics at the University of Extremadura says that five big companies control 70% of the bullfights in the country and "they are not at all transparent." But it's no secret that bullfighting is big business. Government statistics show entertainment, sporting and recreational activities contributed €15 billion to Spain's GDP in 2010 and Medina estimates that bullfighting accounted for about 12% of the total. By his own calculations, José Tomás's participation in Badajoz's bullfighting fair last year could have pumped as much as €7 million ($9.3) into the local economy. The spectacle is the largest source of tax income for the state, according to one of the association of bull breeders. So the effects of the crisis are widespread.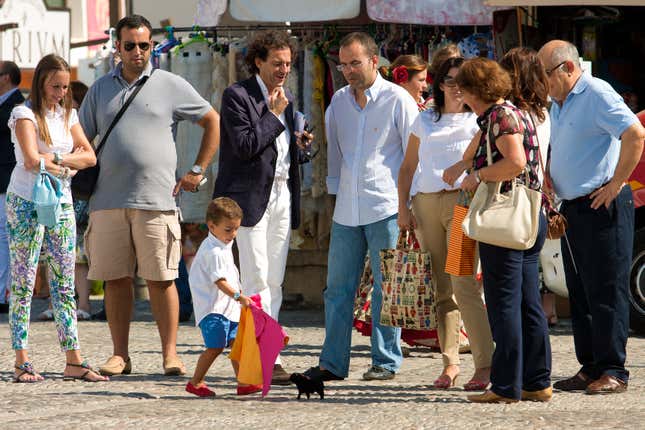 Although it has yet to announce any concrete measures, the Spanish government has put together a commission to look at ways to protect and promote bullfighting. Some say what the industry needs though is an overhaul, from the inside. "Costs have to come down and ticket prices too," says José María Almodóvar. "Everyone in the business should take in less money." And if some breeders, promoters and bullfighters fail to make it, Agustín Arjona believes there may be a "silver lining." It's that the cream may rise to the top and make bullfighting better than it has been in years.