It's everyone against the United States of America.
When Donald Trump announced that he intends to pull out of the Paris climate agreement, the implication was that the US would join Syria and Nicaragua as the only non-signatories of the accord. The other holdouts had legitimate excuses: Syria was in the middle of a war and Nicaragua thought the agreement wasn't ambitious enough.
Now, both countries have had a change of heart.
At the climate talks in Bonn, Germany today (Nov. 7), the Syrian government announced that it will sign the Paris climate agreement after all, according to Climate Tracker. Last month, Nicaragua also signed up. That leaves the US as the only country opting not to be part of the global consensus on climate action.
The Paris climate agreement sets out a goal to stop global temperatures from rising more than 2°C above pre-industrial levels, a crucial threshold above which dangerous changes to the climate are likely irreversible. This requires the world to achieve net zero greenhouse-gas emissions by about 2050.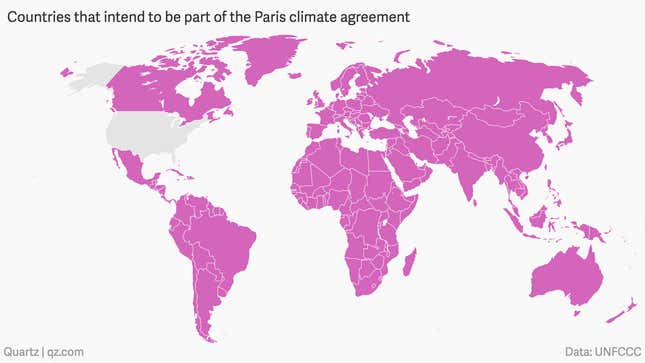 The climate accord lets each country determine its own plan of action. As per current commitments, even if Trump were to change his mind and re-engage the US in climate action, the total reduction in global emissions would still warm the planet beyond the 2°C threshold. In Bonn, countries are trying to figure out ways to work together to ensure we don't cross that threshold.
---
🌍 Quartz is running a series called The Race to Zero Emissions that addresses the challenges and opportunities of climate action. Sign up here to be the first to know when stories are published.