An IPO for a Chinese e-book business has turned out to be quite the thriller.
China Literature, a subsidiary of social media and gaming giant Tencent, opened for trading on the Hong Kong Stock Exchange this morning (Nov. 8) to a booming reception from investors. Shares were initially priced at HK$55 ($7.05), valuing the company at HK$8.3 billion ($1.1 billion), making it the largest tech IPO in Hong Kong since 2007 (when Alibaba listed its business-to-business site Alibaba.com) and the second-largest tech IPO in Asia this year (behind Korea's Netmarble Games), according to DealLogic.
By mid-afternoon in Hong Kong, its share price had doubled and its market cap soared above HK$91 billion ($11.66 billion), according to Bloomberg.
The successful listing sheds light on how Tencent has taken advantage of China's embrace of digital books, and the company is well poised to have even more influence over the publishing and entertainment industry going forward.
As laid out in the its prospectus (pdf, p. 8), Tencent, through its subsidiaries, owns 62% of shares in China Literature, while private equity firm Carlyle Group has a 12% stake. China Literature oversees Tencent's dealings with e-books.
China Literature, which has a catalog of 9.6 million works from 6.4 million authors (pdf, p. 1), is best known for two apps, QQ Reading and Qudian. But it also has several niche apps under its umbrella, including readnovel.com, which offers "literary works concerning campus life and contemporary romance." Customers use these these apps to purchase books, view what their friends are reading, rate and review titles, and receive recommendations. In addition to titles from established publishing houses, writers can self-publish directly to China Literature's apps.
But China Literature's apps do more than just sell books and provide recommendations. They offer several tools that let readers engage with writers and for writers to better know their audience. For example, on QQ Reading, users can also send micropayments (pdf, p. 161) to writers to thank them for their work, and also to participate in Q&As with authors.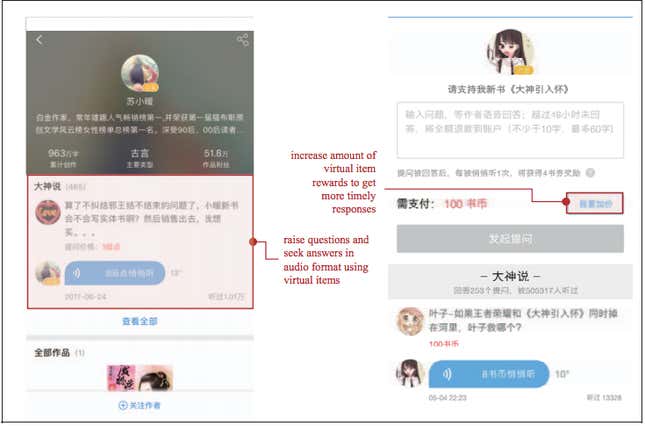 China Literature makes money primarily by selling e-books. Opening chapters of titles are free to read, but reading further requires users to pay 5 yuan ($0.75) per 1,000 characters. The company also offers a subscription service, charging between 10 yuan and 18 yuan per month ($1.51 and $2.71) for full access to select titles (pdf, p. 167).
Book sales are just one part of the equation. China Literature also intends to generate revenue by turning some of the pieces published to its platform into movies, TV shows, and other forms of entertainment. "User demand for content is getting very strong, especially original material," co-CEO Liang Xiangdong told Bloomberg. "Our content can easily be converted into movies and games to maximize coverage."
In China, the popularity of online publishing has helped establish many literary figures, earning them wealth and fame after publishing their earliest works directly on the web. Zhang Wei, for example, an author of fantasy novels who goes by the pen name Tangjiasanshao, earned $16.8 million in 2015, primarily from licensing intellectual property (paywall). The market for online publishing in China, meanwhile, has grown roughly 20% each year since 2012, according to the Publicity Department of the Beijing Municipal Committee.