A new wave of Democratic legislators and local leaders voted into office in the US overnight might be the country's most diverse crop of new politicians ever. They include several transgender women, immigrants and former refugees, and some landmark appointments for African-Americans, and Latina and Asian women.
In many cases, those candidates won against personal attacks and rival Republican campaigns based on racism, homophobia, and anti-immigrant messages. The Democratic National Party chair Tom Perez called the party's victory in the ugly Virginia governor's race a "blueprint" for the party going forward, and other party members are saying the same about smaller local races.
Virginia legislature: Danica Roem
Virginia elected Danica Roem to the state legislature, making Roem the first transgender woman to every hold state office in America. Roem, 33, ran on a platform of fixing a local highway and paying teachers better. She beat out Robert G. Marshall, 73, the author of a "bathroom bill," which would have barred transgender people from state and local bathrooms.
Marshall, a 13-term incumbent, has referred to himself as the state's "chief homophobe." He has previously sponsored a state bill that would ban same-sex marriage. He refused to debate Roem during the campaign, and his campaign distributed flyers calling Roem "him." In an interview after the results came in, Roem reportedly had nothing negative to say about Marshall, telling an interviewer, "I would never attack one of my constituents, and Bob is now one of my constituents."
Democrats also won three state-wide races in Virginia, taking the governor's seat, lieutenant governor, and attorney general seats, and at least 13 district seats from Republicans besides Marshall's. Justin Fairfax, the new lieutenant governor, is the second African-American to be elected to state-wide office in Virginia.
Virginia's general assembly: Hala Ayala, Elizabeth Guzman and Kathy Tran
Hala Ayala and Elizabeth Guzman will be the first Latina women to serve in Virginia's general assembly, and Kathy Tran, who came to the US as an infant from Vietnam, the first Asian-American woman. Ayala's opponent's campaign included fliers that featured a dark-skinned man in a hooded sweatshirt, with a message warning that Ayala would "restore rights to felons" and "child predators."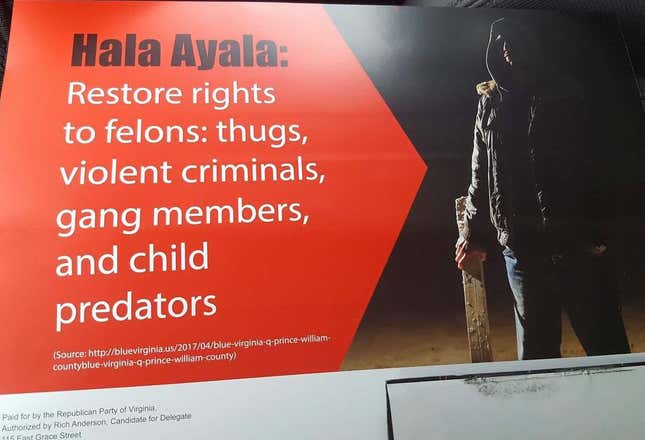 Ayala beat the four-term incumbent by about six points.
Mayor of Hoboken, NJ: Ravi Bhalla
In New Jersey, Ravi Bhalla won the Hoboken mayor's race, becoming the state's first Sikh mayor, after a nasty campaign in which he was called a "terrorist" in fliers.
Edison, NJ, school board: Jerry Shi and Falguni Patel
In the Edison, New Jersey, school board race, Jerry Shi and Falguni Patel were targeted by racist fliers that said "Make Edison Great Again."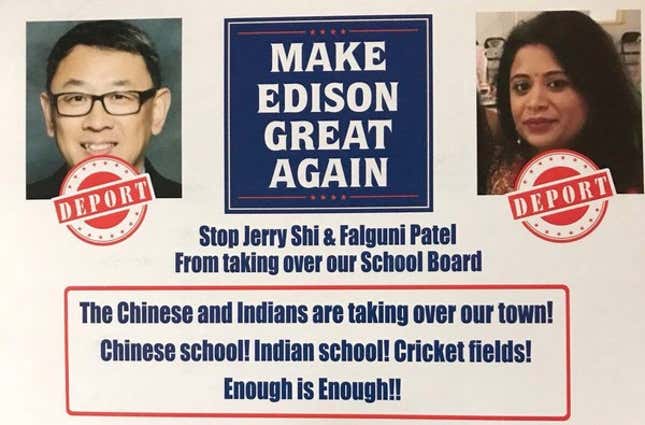 Shi and Patel won two of the three seats on the Edison school board.  New Jersey also elected its first-ever African-American lieutenant governor, Shelia Oliver.
A Nassau County, NY seat: Laura Curran
Laura Curran, the Democratic candidate for executive in New York's Nassau County, would "roll out the welcome mat" for violent gangs, a flier paid for by the state Republican National Committee warned.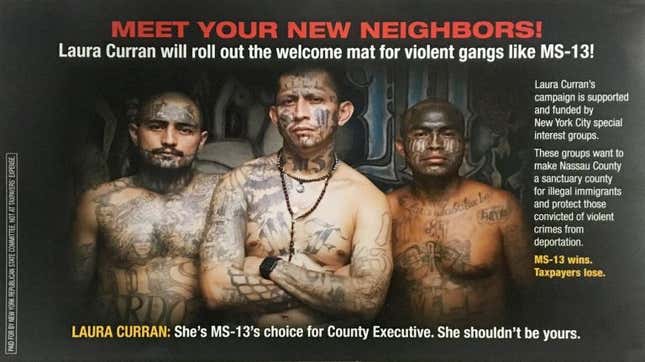 Jack Martins, her opponent, endorsed the ad personally on local television, saying "People may feel shocked about it, but this is what is preying on our communities." The ad referred to Curran's general support for liberal Democrats' opposition to Trump's hard-line immigration policies, he said.
Curran beat Martin by about three percentage points, after focusing on an anti-corruption message, becoming the county's first woman executive.
Montana's first black mayor: Wilmot Collins
Wilmot Collins, who came to the US after Liberia's civil war in 1989, became Montana's first black mayor after he was elected by the town of Helena.
Collins defeated 16-year incumbent Jim Smith, who attend an alt-right group meeting in the city, and pledged not to welcome refugees, attendees said. Collins has spoke about the refugee resettlement process in the US, including at the TEDx event above in February, but during his campaign focused on increasing funding for fire departments and police.
Minneapolis's city council: Andrea Jenkins
Andrea Jenkins became the city's first trans woman of color to be elected to the city council. A beloved figure for many in the city, Jenkins wasn't targeted by negative ads, perhaps because she ran against Green Party Candidate.

Jenkins got 73% of the vote.