Although Facebook has 2 billion users, and many of its other products have around 1 billion users, Facebook has not had a lot of success at launching entirely new products. It purchased WhatsApp and Instagram for billions of dollars, and it ended up copying many aspects of Snapchat's service and integrating them into its apps after it failed to purchase the company in 2013.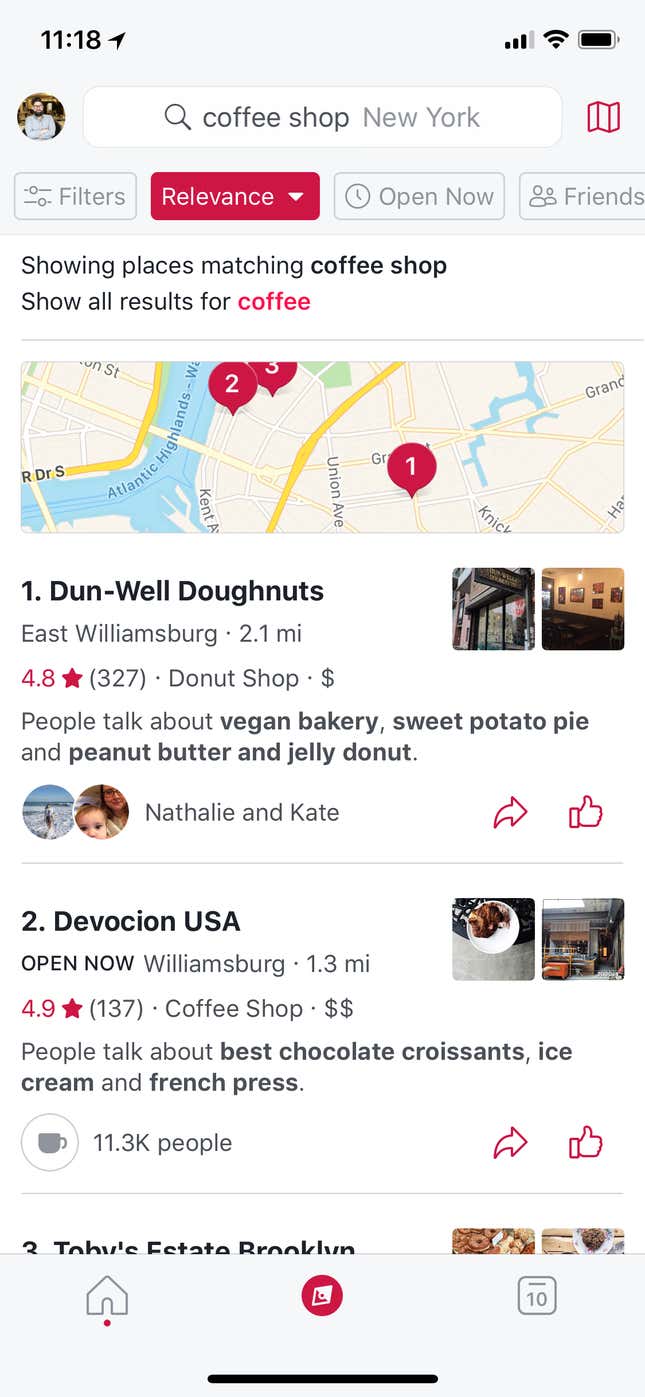 Facebook has a history of copying other companies' products in an effort to keep its users engaged (and seeing ads) for as long as possible. And today, Nov. 10, it's set its sights on a new competitor: Yelp. The big blue social network relaunched its Events app as Facebook Local. The old app was used for keeping track of Facebook events users have been invited to, and others in the area they may be interested in, but as The Verge notes, it wasn't particularly successful.
The new app will still track events, and even offer curated suggestions for local events you might want to attend. But its main focus now is on surfacing places to visit, partially based on recommendations from your Facebook friends. It's very similar to Yelp in terms of scope—you can look for restaurants, attractions, bars, and other local goings-on—except that it's driven by Facebook's data. This might be useful if you trust the recommendations of your friends more highly than you do random Yelp reviewers.
The app will provide notifications for events you've agreed to attend on Facebook proper, and much of the information in the app already seems to exist on Facebook itself. It's not entirely clear why a user would want to download an entirely separate app just to get this information presented in a slightly different way, rather than search for this information on Facebook. But the company in the past has launched dozens of standalone apps that haven't proven to be big hits, but have later found their features adapted for one of Facebook's other apps or products.