Justin Trudeau received a rock star welcome when he arrived in the Philippines Sunday (Nov. 12) for the Association of Southeast Asian Nations (ASEAN) Summit in Manila. With homemade banners, thousands eagerly lined the streets to catch a glimpse of the 45-year old leader.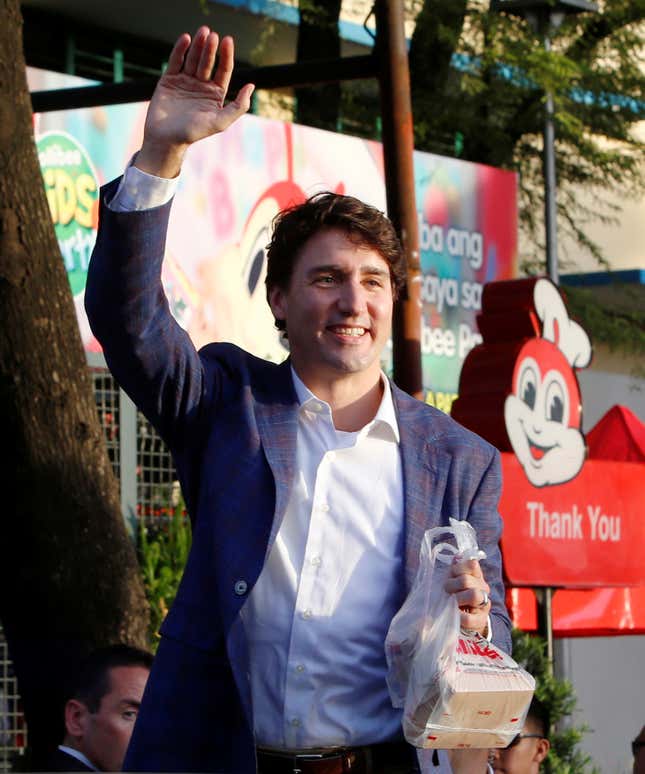 This is the Canadian prime minister's first trip back to the Philippines since the Asia-Pacific Economic Cooperation summit in 2015. Trudeau was then barely a month into office, but he captured Filipinos' hearts with his warm demeanor and dashing "Disney prince" looks. In a beauty contest with Mexican president Enrique Peña Nieto, celebrity-obsessed Filipinos crowned Trudeau as the #APECHottie.
Trudeau's winning appearance in Manila in 2015 was a major milestone in his rise as a global political hero. "By the time I became prime minister in Canada, it was sort of old hat for people," Trudeau said to local press in 2015, explaining that he grew up in the shadow of his father who served as Canada's prime minister for two terms. "This is fresh on the world stage. We'll take some interest right and convert that into the substance of what we're talking about," he said, then still seemingly baffled with all the attention.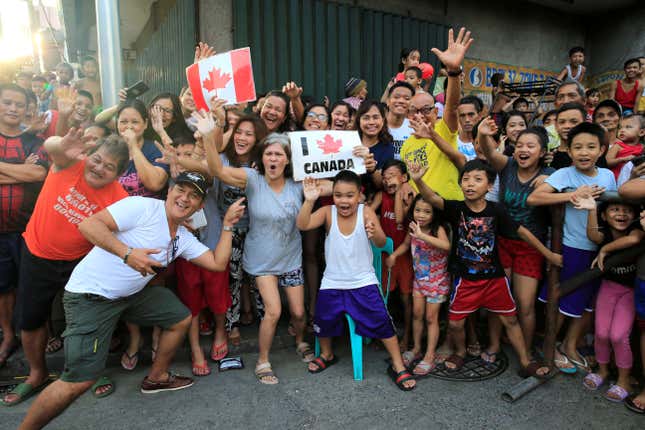 Despite criticism from local environmental groups who have slammed Trudeau for failing to resolve the issue of containers full of Canadian garbage being dumped in the Philippines, his popularity hasn't waned a bit.
In a full-on charm offensive, Trudeau delighted Filipinos with a surprise visit to the popular Filipino fast food chain Jollibee. Taking selfies, shaking hands, and jokingly dipping into customers' fries, Trudeau caused a frenzy in Jollibee's North Harbor branch in Tondo, Manila. In a display of his usual cultural savvy, Trudeau knew the right thing to order. He asked for a to-go order of Jollibee's delicious crunchy fried chicken called "Chicken Joy" and gamely tried the odd-sounding strawberry tea float. Trudeau also stopped by a nearby women's health center funded by the Canadian government.
In January, Trudeau also visited a Jollibee branch in Winnipeg, the fast food restaurant's first outlet in Canada. The sight of the young prime minister preening with fast food staff delighted Filipino immigrants. According to a 2016 Census, there are now more than 830,000 Filipino-Canadians, making them among the largest immigrant groups in the country today.